The new issue of EBR is out and brings fresh food for thought
Big questions find great answers in this issue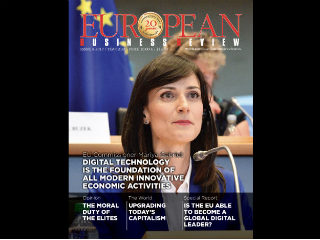 EBR once again attempts to offer thorough information through in-depth research, examination and critique made by experts, academics, policy makers, established journalists and high-ranked officials.
MORE ON Events
Is the EU able to become a global digital leader?
A special report is devoted to the digital developments taking place on the Old Continent. Markus Borchert, President of DIGITAL EUROPE and Senior Vice – President Market Europe, Nokia, interviewed by EBR is called to answer if Europe is set to surf the digital wave. There is also included a very enlightening article by the EU Commissioner for the Digital Economy and Society, Mariya Gabriel entitled "Digital technology is the foundation of all modern innovative economic activities."
In the editorial article, the editor-in-chief of EBR, N. Peter Kramer highlights that "In a 'constructive' Brexit spirit May repeats: Better no deal than a bad deal". Mr. Kramer in the last page column also reports how the French President, Macron found common ground with the Greek PM, Tsipras for fundamental changes in the EU.
Among the experts opinions we host the article of Mr. Dirk Helbing, Professor of Computational Social Science at the Department of Humanities, Social and Political Sciences and affiliate of the Computer Science department at ETH Zurich who points out that the moral duty the elite is to avert global disaster. Furthermore, Mr. Jaap Hoeksma, Philosopher of Law and director of Euroknow writes that "The EU has two options: Be democratic, or cease to exit".
Concerning the EU affairs, Mr. Filip Gregor explains "How the EU can end corporate short-termism and create sustainable financial system." Additionally, Dr. Paul Irwin Crookes, Director of Graduate Studies, School of Interdisciplinary Area Studies and Lecturer in the International Relations of China at the University of Oxford analyzes that: "The EU-china relationship characterized by ineffective political action and lack of trust."
Mr. Lefteris Kretsos, Secretary General for Media and Communication of the relative Ministry of Digital Policy of the Hellenic Republic states in an exclusive interview at EBR that Greece is preparing to enter the global movie business in 2018. Another interesting interview is that one of the Ambassador Dr. Harry Tseng who appeared to be optimistic about a Taiwan – EU bilateral investment agreement during his conversation with N. Peter Kramer.
Touching the global issues, Mr. Uri Dromi, director general of the Jerusalem Press Club writes on leadership and media: "Some leaders wrestle with news media better than other leaders". Mr. Dirk Helbing writes on "Upgrading today's capitalism and Mr. Hans Izaak Kriek, international political commentator, journalist of EBR and editor-in-chief of Kriek Media expresses his view on the new book of Hilary Clinton. Last but not least, Mr. Radu Magdin, international analyst, reveals "5 commandments for tycoons and other power players in a shifting world order".
Plus, discovering new trends, we know better Mr. Byron Nicolaides, founder, owner and CEO of PEOPLECERT and we understand how technology, education and certification move side by side. Mr. Steven Hill writes on "The rise of digital workers" and Mr. Maxim Buur reports about Orange Groove: Startups for a more dynamic Greek economy".
EBR once again attempts to offer thorough information through in-depth research, examination and critique made by experts, academics, policy makers, established journalists and high-ranked officials.
One more informative experience is available online or printed in selected selling points, major events and conferences around the world. Also do not forget that a special inflight edition is available in the Business Lass & Senator Lounges of Lufthansa, Austria, Brussels Airlines, Eurowings, Swiss and for the Gold Status holders of Star Alliance in six key airports worldwide where the alliance holds Exclusive Lounges: "Charles de Gaulle Airport" Paris, "Ezeiza International Airport" Buenos Aires, "Galeão International Airport", Rio de Janeiro, "Guarulhos Airport" Sao Paulo- Brazil, "Los Angeles International Airport" USA, "Nagoya International Airport" Japan.