France's Macron takes his EU reform plans to Athens
The Greek government hopes to make the most of French President Emmanuel Macron's visit on Sept. 7-8. On the agenda will be France's plans for EU reform and Greece's negotiations with its lenders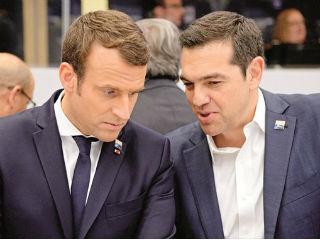 The Greek economy is showing timid signs of improvement. Last week, the Hellenic Statistical Authority announced that Greece's gross domestic product grew by 0.5 percent in the second quarter of the year. Unemployment is at around 22 percent, still the highest in Europe but down from a peak of 28 percent in 2013. But Greece is not out of the woods yet. Representatives from Greece's lenders will arrive in Athens next week to start preparations for a review of the country's bailout program. The formal review will start in October, and the lenders could ask Greece for more economic reforms. Greece does not face any big debt repayments to its institutional lenders for the rest of the year, so a Greek default is unlikely in the short term. However, another round of unpopular economic reforms could reignite lingering resentment between the Greek electorate and the government. A prolonged review process could also reignite fears about Greece's financial future and make it harder for Athens to
MORE ON Europe
Macron's visit is highly symbolic for the Greek government: Athens wants to show that Greece is finally turning a corner after a decade of crisis and three rescue programs by the European Union and the International Monetary Fund. Greek Prime Minister Alexis Tsipras wants to send the message that international investors are welcome in the country and hopes to obtain at least the promise of French investment in Greece (around 40 French business leaders will accompany Macron).
Tsipras also wants to shore up domestic support. Years of unpopular spending cuts and tax hikes have taken their toll on Greek voters. The country's general election will not be held until late 2019, but Tsipras is aware that unless he manages to put the austerity years behind him and to focus his political agenda on growth and prosperity, he may not be re-elected.
The Greek economy is showing timid signs of improvement. Last week, the Hellenic Statistical Authority announced that Greece's gross domestic product grew by 0.5 percent in the second quarter of the year. Unemployment is at around 22 percent, still the highest in Europe but down from a peak of 28 percent in 2013. But Greece is not out of the woods yet. Representatives from Greece's lenders will arrive in Athens next week to start preparations for a review of the country's bailout program. The formal review will start in October, and the lenders could ask Greece for more economic reforms. Greece does not face any big debt repayments to its institutional lenders for the rest of the year, so a Greek default is unlikely in the short term. However, another round of unpopular economic reforms could reignite lingering resentment between the Greek electorate and the government. A prolonged review process could also reignite fears about Greece's financial future and make it harder for Athens to fully return to international bond markets.
From Macron's perspective, the visit is part of a strategy to tour Europe and present his plans for EU reform. France has proposed ideas such as creating a separate budget for the Eurozone and increasing EU spending across member states. France wants the European Union to discuss these ideas before the end of the year and is counting on support from Southern Europe.
Greece will probably support France's visions for EU reform, but Macron's visit is not without political risks. Tsipras could use Macron's visit to once again request measures to alleviate Greece's debt burden. This is a controversial issue in Germany, especially during an electoral season (Germany will hold a general election Sept. 24). Macron will therefore have to find a balance between his aspirations of leading Mediterranean Europe and the need to preserve France's alliance with Germany.