Leader of Ukrainian breakaway republic calls on EU to "do everything possible" to prevent further escalation
An exclusive interview with Alexander Zakharchenko by Martin Banks.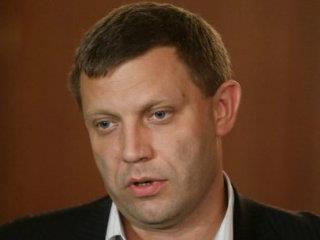 The demand by Alexander Zakharchenko, who has been leader of the self-proclaimed Donetsk People's Republic since August is a "clear cut" message for Brussels: "I would say to the EU – let`s start talking, let`s start a dialogue.
MORE ON Interviews
The demand by Alexander Zakharchenko, who has been leader of the self-proclaimed Donetsk People's Republic since August is a "clear cut" message for Brussels: "I would say to the EU – let`s start talking, let' s start a dialogue. We are reliable partners who observe all agreements. We do not have any aggressive intentions and we are targeting at cooperation, in all fields". "We have large economic potential, fertile lands and very talented people. Now we are free from the stranglehold of Kiev and consequently free from corruption, looting of state money and oligarchs` dictatorship. The future belongs to us."
Zakharchenko was speaking in the margins of a 'peace and unity' forum, in the war-devastated city of Donetsk. The two-day event comprised national parliamentarians, representatives from civil society and the international media. The 39-year-old, who is key figure in any resolution to the bitter year-long conflict, said the "first and main" challenge facing the international community was restoring peace to war-torn eastern Ukraine.
"Not a ceasefire," he insisted, "but a genuine solid peace. Then comes the serious work of consolidation of all branches of power. I mean executive, legislative powers, ministries and other state bodies, including the judicial system. All those branches must work as one mechanism." "This is a difficult task taking into consideration the Ukrainian administrative heritage. We have already started this work and I`m sure, while living in peace, we will manage to build an effective administrative system for our republic within a short period of time and be able to restore our country and economic growth very soon."
On the current fragile ceasefire, which was brokered in Minsk in February, he said, "As a result of pressure from European leaders and the Russian President Kiev agreed to sign Minsk accords. The Ukrainian army even withdrew heavy weapons from some parts of the front line. But at the same time we constantly record shelling of our positions from the Ukrainian side. The most frightful is shelling of residential districts of our towns." Expanding on this, he said, "We witness gunfire along the whole front line, almost on a daily basis. Most ceasefire violations take place in those areas which are controlled by Ukrainian units not subordinated to Kiev. To prove my words you may turn to the OSCE mission reports. These reports contain facts that speak for themselves."
The Organisation for Security and Co-operation in Europe (OSCE), the group charged with overseeing the Minsk agreement, recently reported more than 1,100 explosions in and around Donetsk. Zakharchenko went on, "I can assure you that we fully honour all points of Minsk agreements, we follow its spirit. We removed all heavy weapons, we are open for contacts, consultations and dialogue 24 hours a day. We even passed all Ukrainian army captives without exchanging them for our people, including lots of civilians. We constantly make such gestures of goodwill. In return we receive only empty promises from Kiev, continuation of the economic blockade and military provocations. I do hope that the coming meetings will help move the situation from the dead-point as regards to implementation of the whole complex of measures."
More than 6,200 people are believed to have been killed since April 2014 and more than one million have fled their homes since the conflict erupted just over one year ago in Donetsk and Luhansk. Aid organisations have warned of a brewing humanitarian crisis. Turning to the current humanitarian situation in Donbas, Zakharchenko said,"It is still very hard but we have managed to avoid a catastrophy. We started to pay pensions and social payments in full. We pay salaries and regular social subsidies to families with small children and young mothers. There is growth of industrial output in our plants and factories. This is a very positive signal. It means that our economy is starting to revive."
More than 1.2 million have registered with the Ukrainian government as internally displaced. But the actual number is likely to be far higher. Zakharchenko continued, "As for internally displaced people, many of them fully or partly lost their houses as a results of artillery gunfire. It is impossible to rebuild their houses at present because most of them are situated on the front line, so for the civil population it is not safe to be there. But none of those people are homeless, none of them starve. We managed to find temporary homes for them, guaranteed food supplies and clothes for them. Here I must thank Russia... without its massive humanitarian help the state of refugees could be catastrophic. Today, they have everything necessary, starting from food to toys for children."
Zakharchenko was a keynote speaker at the peace forum (11 and 12 May): "Donbass: Yesterday, Today and Tomorrow". It was attended by more than 500 people from several EU member states and senior representatives of the governments of the Donetsk and Lugansk republics. The event coincided with the first anniversary of elections on establishing self-rule in the two republics. The poll was not recognised by most countries but a majority of respondents were said to have supported some form of self-rule for Donetsk and Lugansk.