Driving Turkey into the arms of Russia?
The convergence of Russian-Turkish interests is likely only of a temporary nature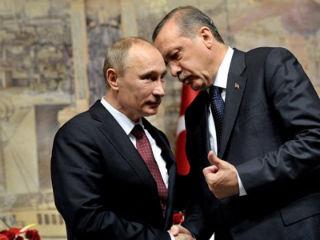 All in all, Mr. Erdogan should be very careful to put too much stock into his Russia connections. How quickly a presumed Turkey-Russia alliance can unravel was made plain in November 2015, when the two countries had a real fallout over the Turkish downing of a Russian fighter jet.
MORE ON Analyses
The Trump administration decision to sanction two key Turkish officials in retaliation for the continued detention of an American cleric is seen as driving Turkey, a longstanding NATO ally, into Russia's hands.
This would further undermine U.S. influence in the Eastern Mediterranean, a key part of the world, and give Russia, Iran, China and an increasingly anti-American, Eurasia-focused Turkey the upper hand. Absent the Trump Administration's single-minded focus on support of Israel, even a U.S. abandonment of the region appears possible.
A report published this week by the Washington-based Center for Strategic and International Studies (CSIS) said:
The United States needs a holistic and integrated approach towards the Eastern Mediterranean that will stabilize Europe and shift the regional balance in the Middle East back towards the United States. Resolving the Syrian conflict is essential for Eastern Mediterranean stabilization, and developing an appropriate policy approach toward an increasingly antagonistic and anti-democratic Turkey is the key to solving the Syria puzzle and re-anchoring the region toward the Euro-Atlantic community.
In its report, the think tank also argued that the United States has a strategic interest in reasserting itself in the Eastern Mediterranean as a means of preserving European unity and security; stabilizing the Middle East; countering projection of power by Russia, Iran and China, and confronting challenges by numerous non-state actors.
But just how real is the concern that Turkey will opt for Russia as a new partner?
Despite steps such as Turkey's acquisition of Russia's S-400 anti-missile system, a convergence of Russian-Turkish interest is likely to be problematic at best. The two nations are likely to diverge again once Syria moves to regain control, of Idlib.
The northwestern Syrian border region with Turkey is the dumping ground for rebels and jihadists that were evacuated from areas elsewhere retaken by Syrian military forces. It includes the jihadists that hail from the Caucasus and Central Asia.
Idlib is but one potential flashpoint in Turkish-Russian relations. Both Russia and Syria see the Syrian Kurdish People's Protection Units (YPG), a militia viewed by Turkey as a terrorist extension of the outlawed Kurdistan Workers' Party (PKK), as important to resolving Idlib. YPG representatives have been travelling to Moscow, where the group was allowed to open an office in 2016.
Syrian Kurdish representatives have met in recent weeks with the government of president Bashar al-Assad to negotiate the future of Kurdish areas that Turkey wants to wrest from Kurdish nationalist control. They reportedly reached agreement on sharing oil revenues from two Kurdish-operated oil fields.
Turkey's pocket books could be hit much harsher still by a Russian-backed resolution of a three-decade-old dispute over the rights of Caspian Sea littoral states – Russia, Iran, Azerbaijan, Kazakhstan and Turkmenistan. Set to be signed on August 12, it paves the way for construction of an oil pipeline to Europe that could undermine Turkish hopes of becoming an alternative energy corridor bypassing Russia.
Moreover, Russia this month began delivering arms to Armenia. Its borders with Turkey and Iran are guarded by Russian troops. This is significant against the backdrop of reports that Turkey was planning to establish a military base in Nakhichevan, a landlocked autonomous region that is separated from Azerbaijan by a strip of Armenian territory.
Russian officials fear that Turkish and Azerbaijani military moves in Nakhichevan could fuel Armenian-Azerbaijani tensions over the Armenian enclave of Nagorno-Karabakh.
All in all, Mr. Erdogan should be very careful to put too much stock into his Russia connections. How quickly a presumed Turkey-Russia alliance can unravel was made plain in November 2015, when the two countries had a real fallout over the Turkish downing of a Russian fighter jet.
Russian meddling in Greek domestic affairs 'unacceptable', Commission says***
Russia's meddling in Greece's domestic affairs is "unacceptable", the European Commission told EURACTIV.com, amid an ongoing war of words between Athens and Moscow.
Asked to comment on the recent diplomatic expulsions between the two countries, Commission spokesperson Carlos Martin said that the EU executive did not comment on bilateral issues between member states and third countries.
But he warned that generally speaking, "disrespect for other countries' sovereignty and interference in their domestic affairs is unacceptable".
"The EU has always been clear about this and recognises the challenge, as also evidenced by recent discussions in the European Council," the EU official added.
'Fighting as a comrade in arms with Turkey'
In the meantime, the Greek ministry of foreign affairs issued a fierce statement on 10 August, hinting that the close cooperation between Ankara and Moscow lately has negatively affected Greece-Russia relations.
Since Russia began cooperating on a military level with Turkey it appears "unable" to understand the principles of Greek foreign policy, the ministry of foreign affairs said.
"Since it began fighting as a comrade in arms with Turkey, providing it with a number of facilitations in the security sector, it appears to be steadily distancing itself from positions befitting the level of friendship and cooperation that has characterised Greek-Russian relations for the past 190 years. It appears not to understand that Greece has its own interests and criteria in international politics," the ministry emphasised.
Relations between Athens and Moscow have deteriorated lately, following Greece's decision on 11 July to expel two Russian diplomats and ban the entry of two others.
The Greek government said it had evidence that they tried to undermine the deal recently agreed between Greece and FYROM, which should pave the way for Skopje to join NATO and will bolster its EU membership hopes.
Athens claims that the diplomats had been informing Russia for a long time while the Kremlin claimed that the United States was behind Greece's move.
In response, Russia decided on 6 August to expel two Greek diplomats: the Commercial Attache and a communication technician of the Greek embassy in Moscow. In addition, Moscow decided to forbid the entry into Russia of the director of the Greek Foreign Ministry's political office, Nikos Kotzias.
On 20 July, sources close to the issue told EURACTIV.com that the new power balances in the wider region are another contributing factor to the escalation of tensions between Moscow and Athens.
The sources said that the Turkey-Russia rapprochement and their joint actions in the Syrian war have raised eyebrows in Athens.
"The close cooperation in the Syrian war between Russia and Turkey has increased our suspicion," the sources said, adding that another worrying issue for Athens is Turkey's plans to purchase the Russian S-400 missile defence system as part of a drive to boost defensive capabilities in the region.
In its new statement, Greece insisted that it follows a multidimensional, independent and democratic foreign policy and noted that Russia's decision to expel two Greek diplomats from its territory was groundless.
"The decision by the Russian Ministry of Foreign Affairs, unlike the Greek side's decision which was based on specific evidence of illegal and irregular activities of Russian officials and citizens within Greece, was not based on evidence. On the contrary, the Russian side's decision is arbitrary, retaliatory and not based on any evidence," the ministry said and added that it would respond with "forbearance and sobriety".
"We want to remind our Russian friends that no country in the world would tolerate attempts to a) bribe state officials, b) undermine its foreign policy, and c) interfere in its internal affairs," the ministry concluded.
*Senior fellow at the S. Rajaratnam School of International Studies and an award-winning journalist.