by Maha Eltobgy, Tom Brown and Nadja Picard*
This year is critical for the climate. COP26 is just months away, and global emissions continue to rise, despite COVID-19 and commitments to cut carbon. Boardrooms are under pressure from investors, who are increasingly challenging companies to do better. In recent months, the activist investor Engine No. 1 made headlines when it managed to install three directors on the board of ExxonMobil. Legal & General announced it would divest from four companies over their failure to address climate risks, and BlackRock supported 75% of climate and social proposals in the first quarter of 2021.
Investors now see inaction on climate change as a key material risk. A group representing 457 investors and $41 trillion in assets has called for a "race-to-the-top on climate policy" and warned laggards will miss out on trillions in investment if they "aim too low and move too slow".
While climate is climbing up board agendas, investors recognize that it is not the only issue. There are wider risks from negative impacts on the planet, on people and on society. For example, in February, the 208 members of the Investor Alliance for Human Rights publicly called on companies to improve their human rights performance, through stronger commitments, rigorous due diligence, transparent remediation and better reporting. Only a minority of the 230 global companies assessed by the World Benchmarking Alliance in 2020 demonstrated "the willingness and commitment to take human rights seriously."
A survey of institutional investors by Edelman showed that social and governance factors have increased in importance.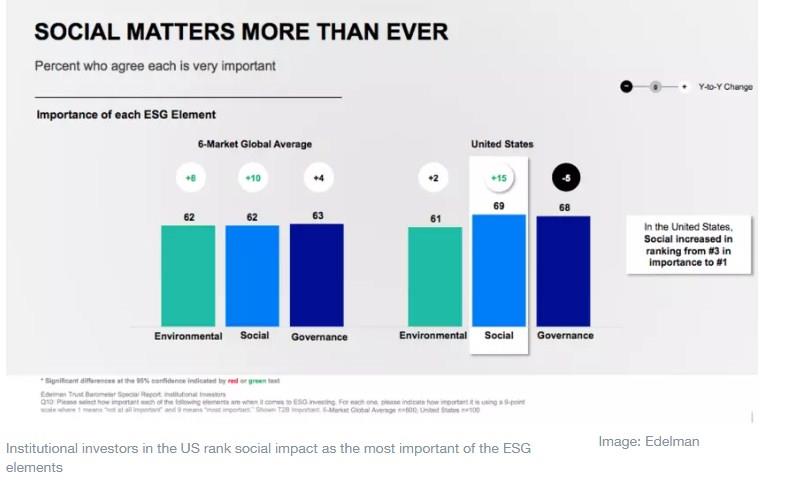 Overall, a strong majority of investors regard ESG as central to corporate value. The Edelman survey showed that:
? 9 in 10 investors plan to accelerate engagement on climate risks in the next 6 months and expect boards to oversee at least one environmental issue.
? 88% agree that companies that prioritize ESG initiatives represent better opportunities for long-term returns than companies that do not.
? 93% say they are more interested in taking an activist approach to investing and believe activism will increase.
Investors may be calling for better information in order to inform their decisions, but they are not getting it in a consistent way from all companies.
Cherry-picking and greenwashing
Investors can be catalysts for positive change – but in order to apply pressure, they need quantitative and qualitative information about how resilient and sustainable their portfolio companies are. Currently there is a lack of consistent, comparable reporting against a universal set of ESG metrics.
There are more than 600 ESG ratings and rankings in use today, creating an overwhelming data challenge for investors and businesses. Multiple ESG rankings allow companies to 'cherry-pick' the most flattering providers, in a practice known as 'greenwashing'. Comparing corporate progress across so many metrics is all but impossible.
To help address this, the World Economic Forum's International Business Council (IBC) launched a year-long project with Deloitte, EY, KPMG and PwC. The aim was to identify 21 core ESG metrics for companies to report in their mainstream annual reports, cutting through the fragmented landscape of current sustainability reporting and building momentum towards the development of global sustainability standards.
Published in September 2020, the Stakeholder Capitalism Metrics (SCM) are deliberately collated from a dozen existing frameworks. They are concise, market-led, ready-made metrics that can be easily reported across all industries.
It is likely to take several years before global standards are established and then widely adopted. In the meantime, the SCM provide a valuable stepping-stone for companies to take action on comparable ESG reporting now and get ready for the coming global standards and regulations. But why should investors back globally-accepted ESG standards?
1. Supported by business, for business
Chief Executive Officers in the Forum's 120-business strong IBC called for the SCM to measure and disclose relevant aspects of their ESG performance, so they could communicate this to investors and other stakeholders. The core metrics capture negative impacts (e.g. greenhouse gas emissions, forced labour), but also the contributions companies make towards healthier societies and ecosystems. They help ensure companies identify the principal material ESG risks and opportunities at board level.
2. A concise set of universal, comparable ESG metrics
The metrics are universally applicable across all sectors in all locations. This allows investors to compare all companies' progress against the core metrics. Businesses will still need to report material industry- or company-specific metrics for investors and other stakeholders to fully understand performance, and the SCM aren't designed to replace this. The SCM include a "Disclose or Explain" clause to ensure completeness and avoid cherry-picking.
3. Focused enough to get every company reporting
The SCM have been designed to get more companies reporting on this foundation set of ESG topics. With just 21 core metrics, they are focused enough to encourage widespread adoption. This is important, because today, for example, fewer than 50 UK public companies are comprehensively reporting on climate risks in line with Task Force on Climate-related Financial Disclosures (TCFD) guidelines. Investors can play a powerful role in encouraging more companies to adopt ESG reporting. The SCM are a great place to start, with over 80 major companies already committed to reporting them.
4. More than just climate change
Climate change is critical, but it is not the only environmental impact we need to measure. Sustainable value creation also depends on protecting fresh water, fertile land and ecosystems. A business cannot succeed in a society that fails, and of the three ESG elements, 'social' now ranks equally high in importance for investors, according to the Edelman Trust Barometer. The SCM capture both social and environmental impacts.
5. Influence over the creation of globally-accepted ESG standards
Regulators including the US Securities and Exchange Commission (SEC) and the European Union are currently reviewing mandatory rules on sustainability reporting. The IFRS Foundation is working with the International Organization of Securities Commissions (IOSCO), standard-setters and others to explore a global solution under a proposed International Sustainability Standards Board (ISSB). The Forum's IBC is engaged with these processes and is a member of the ISSB Technical Working Group. This means that the SCM coalition of companies has a voice in global ESG reporting.
We call on all investors to back the Stakeholder Capitalism Metrics as a stepping-stone for companies to use now. It will also be critical that they support progress towards globally accepted ESG standards. By encouraging reporting on these recommended metrics, investors will benefit from more reliable ESG information for their portfolios.
*Head of Shaping the Future of Investing; Member of the Executive Committee, World Economic Forum and Global Head Emeritus, Asset Management, KPMG International and Partner, Global Reporting Leader, PwC
**first published in: www.weforum.org