by Stephen Hall*
Financial inclusion is so important that it features in 8 of the UN's 17 Sustainable Development Goals.
The good news is that there has been significant progress in many areas over the past decade, according to a survey of 125,000 adults in 123 economies.
Here are four key takeaways from the World Bank's latest Global Findex Database.
Financial inclusion: account ownership is increasing at a rapid rate
76% of adults now have a bank or mobile account, up from just 51% in 2011, according to the report.
This is important, as the price of being left on the outside of the financial system is severe. Without a bank, interest can't be accrued and cash can't be stored and secured.
Yet, until recently, a large proportion of adults in developing nations remained without an account. But inclusion is now increasing rapidly, says the World Bank.
Account ownership in developing economies grew from 63% to 71% between 2017 and 2021, driven by services like mobile money. The mobile money service M?Pesa, for example, has lifted 2% of the Kenyan population out of poverty, according to research from Georgetown University and MIT.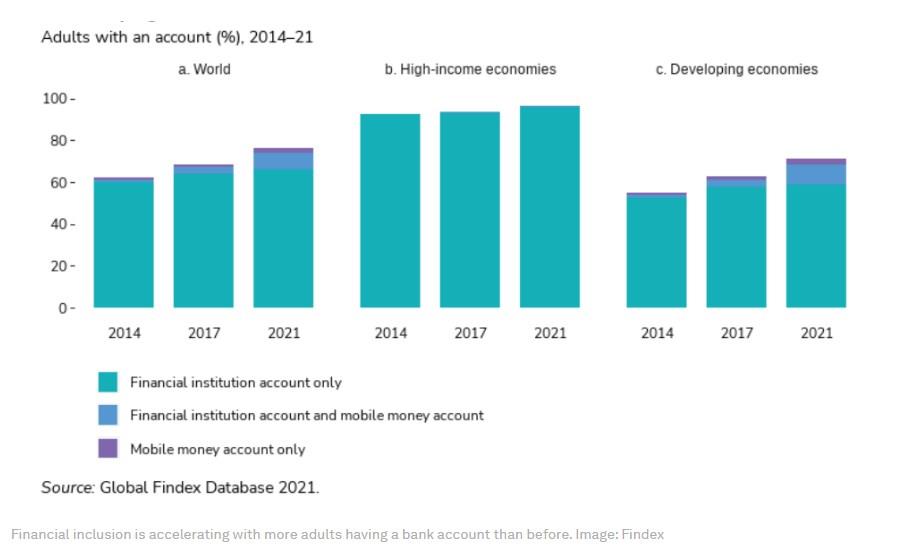 Education, work and gender disparity are barriers to inclusion
Among the barriers to financial inclusion, employment was found to be a primary reason for not having an account. 77% of working adults have an account, while just 65% without a job have one, according to Findex.
Women have also historically been disproportionately excluded from the financial system - 55% of the unbanked population worldwide are female. But the gender finance gap has been narrowing in recent years. In developing countries, the unbanked divide has shrunk from 9 percentage points to 6 percentage points in 2021, said the report. This equates to 74% of men and 68% of women in these regions.
Education was found to be another major factor. Adults in developing countries with a primary education or less were 14 percentage points less likely to have an account than those with a secondary education, the Findex report found. These adults are more likely to fall victim to fraud, as well.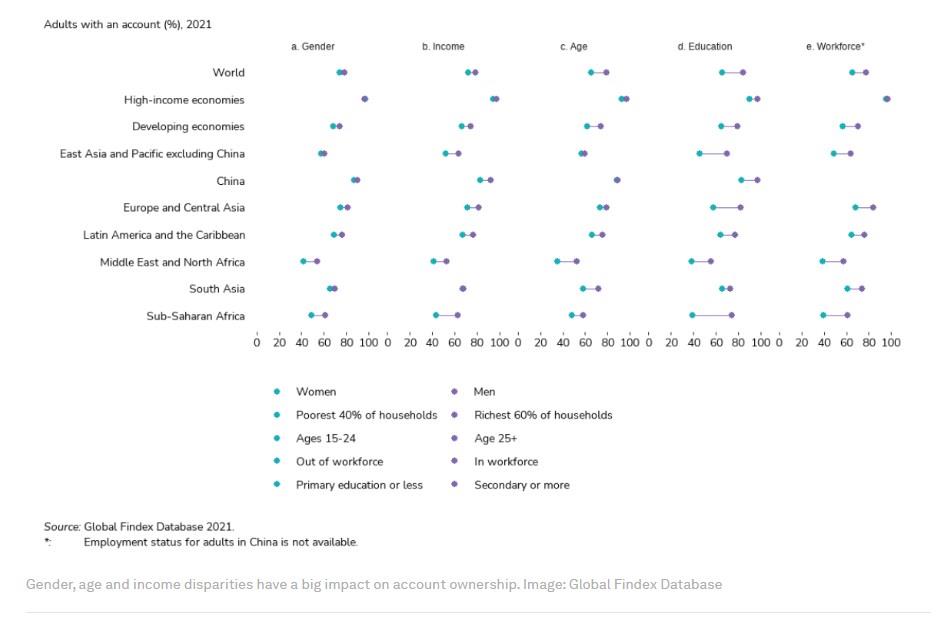 COVID-19 has accelerated digital account adoption
The COVID-19 pandemic led to increased working from home, the temporary shutdown of banks, shops and restaurants, and some merchants refusing cash payments. All of that accelerated the uptake of digital accounts.
Over 80 million adults in India and more than 100 million in China made a digital merchant payment for the first time after the onset of the pandemic. In developing economies, 40% of adults made transactions using a card, phone, or the internet for the first time, Findex found. Fintech adoption was 50% higher in countries with strict lockdown measures than those without such restrictions, according to the World Economic Forum.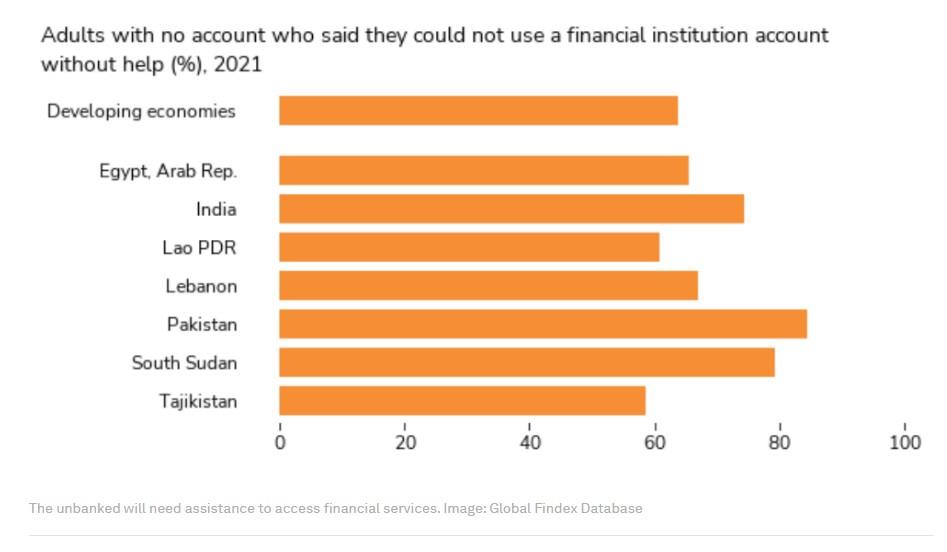 Financial literacy needs to rise in tandem with account ownership
Globally, financial literacy is a significant problem. Just 17% of surveyed adults said their financial knowledge was high, according to a 2020 international study led by the OECD.
Although financial inclusion has widened, users with less experience using banking services struggle to benefit without assistance. About two-thirds of unbanked adults said they would need help using an account if they opened one at a financial institution, the Findex report found. These less experienced users may also be vulnerable to fraud and higher bank fees, the report warned. Governments and policymakers must "invest in regulations and governance to ensure that safe, affordable, and convenient products and functionality are available and accessible to all adults in their economies."
*Writer, Formative Content
**first published in: www.weforum.org