by Itamar Benedy*
The metaverse has become a big business and a buzzword for every industry imaginable. Thanks in part to the pandemic, interest has skyrocketed, resulting in the metaverse being worth an estimated $800 billion by 2024, up from just $47 billion in 2020.
In particular, the advertising industry has an eye on this space. Brands see it as an exciting opportunity and a new channel to help them connect with audiences in a way that was previously impossible due to predominantly 2D digital channels.
According to a new report by McKinsey & Company, 59% of consumers are excited about transitioning everyday activities to the metaverse, with a similar number of metaverse aware companies (57%) already adopting the concept, which also shows substantial investment growth signaling further confidence in the potential of the metaverse.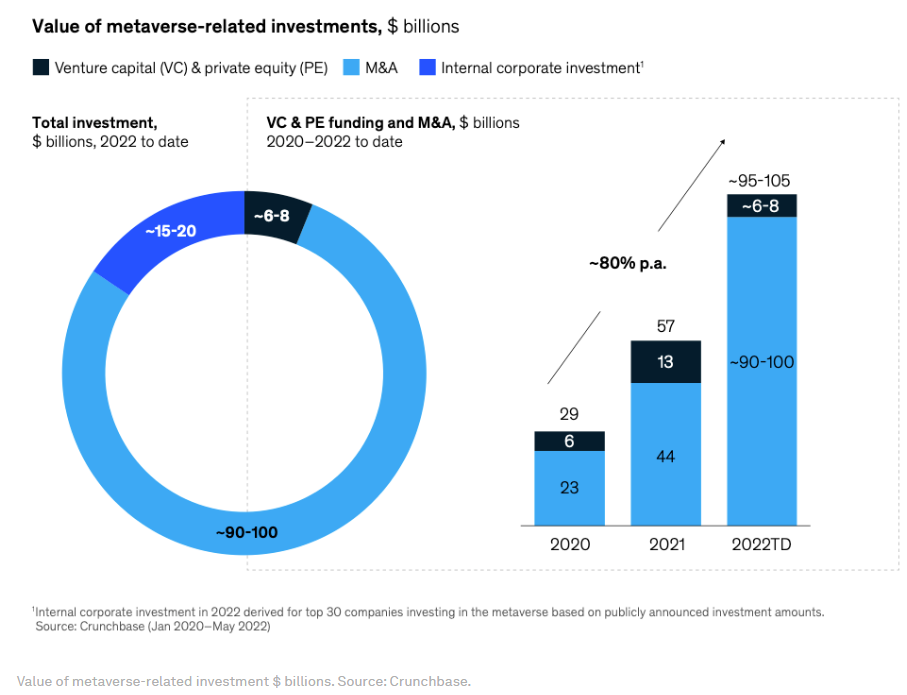 The prospect of the metaverse presents us with an incredible opportunity to rethink how digital advertising works and the value it provides to all parties involved. As we continue to build towards the metaverse, we need to ensure the right foundations are in place from an advertising perspective for it to fulfill its true potential. This responsibility should lie with everyone rather than a select few.
1. Create an equal and accessible space
For the metaverse to be economically viable, we need to learn from what has come before to ensure it's a place that can foster inclusivity and is accessible to everyone. If we look at social media, many of today's most popular platforms began with little to no advertising. As they grew, they all looked to advertising as a way to remain free to use and help them start to generate revenue to cover the costs of a growing business. In most cases, this started small and grew at an unprecedented rate, turning them into advertising powerhouses locked behind walled gardens, only letting advertisers in if they followed their guidelines, procedures, and – most importantly – payment terms.
With the globe's biggest tech companies scrambling to build their metaverses, many worry that what we have seen on other digital channels could again become a reality within the metaverse. However, if these spaces are not connected harmoniously and openly, we will be left with many different "mini-metaverses", all competing for users. Finding a way to bring all of these companies together is a monumental task and one that needs to be approached and taken incredibly seriously and carefully.
2. Emphasize the user experience
In this creator-first economy, the user experience will be more important than ever, with end-users having zero tolerance for inappropriate, disruptive experiences. When we moved from the Mad Men days of advertising to digital, we saw a monumental shift that changed how advertising works. A similar shift is coming as we move away from digital towards metaverse advertising.
I believe the metaverse will become the digital twin of the real world, but advertising will need to follow the same rules for this to happen. Ads will need to be immersive and complement the user experience, allowing advertisers to become part of the gameplay and establish meaningful connections with players. Today's digital advertising methods will not transition to the 3D world. Imagine walking along a street and having an ad suddenly pop up and block your path.
The interoperability of the metaverse will make room for campaigns that are not only cross-platform but cross-fandom and cross-entertainment, opening up creative and innovative ways that brands can add to and complement the user experience. Looking at the entertainment industry, if a blockbuster film launches today – like the Star Wars or Marvel franchises – the studio will often sell merchandise alongside it, as well as release an album with the film's score, plus an app or game related to the film's story, all with the intention of driving more ticket sales.
Within the metaverse, film studios will be able to create digital assets related to the production, which could include items for your avatar to wear, an area based on the film's story where characters could go to experience part of the narrative, or even have the film's stars hold live digital Q&As and signings. The possibilities are endless, and rather than talking about cross-platform campaigns that run across two or three different channels or platforms, the metaverse will open up the possibility for campaigns that run across hundreds and even thousands of digital touchpoints.
3. Regulate the use of data
Advertising in the metaverse will present new issues around data privacy, so the industry will need to regulate the use of data and work towards business models that put users first. As we have seen from the depreciation of the cookie, creating a unified way of effectively collecting personal data that is open, transparent, and benefits everyone is proving a monumental challenge. Imagine how much more challenging this will be when there is infinitely more data available to collect from users on just about anything. If we can take just one lesson from the ongoing privacy issues that have plagued the internet in recent years, it's just because we can collect data, it doesn't mean we always should.
It's not all doom and gloom, though. Now that the world is aware of just how important data privacy is, there is a huge opportunity to create a standardized way of tracking that is ethical, does not infringe on personal privacy, and is not housed behind walled gardens. This is even more important when it comes to children, and there are already many companies like SuperAwesome that work to make gaming environments safer for kids. The lessons we learn from these 3D platforms will be invaluable as we begin to understand what privacy regulations need to be built for the metaverse to remain a safe and privacy-first space.
Building an inclusive metaverse experience
Accessibility, user experience and privacy first – these are three pillars that advertisers need to keep in mind as they build out their metaverse strategies. Getting them right will be crucial in allowing the metaverse to fulfill its true potential. We are facing an incredibly exciting yet daunting future, and we should all feel a collective sense of responsibility to ensure that what we are creating is a future that we not only want to be a part of, but that benefits and lays the groundwork for future generations to come.
*Founder and Chief Executive Officer
**first published in: Weforum.org