by Carmine Di Sibio*
There is enormous pressure on businesses today to create more and more value. Technology is accelerating at a rapid pace, redefining how and what consumers buy in the process.
At the current churn rate, almost half of the companies on the S&P's stock exchange will be gone in the next 10 years. These seismic shifts in the marketplace have left organizations with a clear choice: transform at speed or risk total disruption.
As organizations scramble to meet mounting consumer and societal expectations, they face record-high inflation cutting into profit margins, impacts from climate change, increased geopolitical tensions including the ongoing war in Ukraine and a realisation that the structure of cross-border trade, foreign investment and globalisation is fundamentally changing.
Going it alone is no longer enough
No single company could possibly deliver the complex, ever-changing solutions consumers and society demands year-after-year. No organization or country could hope to make meaningful headway on issues as far-reaching as climate change, economic inequality or the energy transition alone.
We must reach across borders, across social and economic divides, to generate diverse thinking and new skills — but instead, our global community faces fragmentation.
As a business community, how do we overcome this? How do we transform our business models when risk abounds and the world seems to favour the familiar? In a competitive market, how do we prioritise collaboration; the fastest and most productive path to an answer?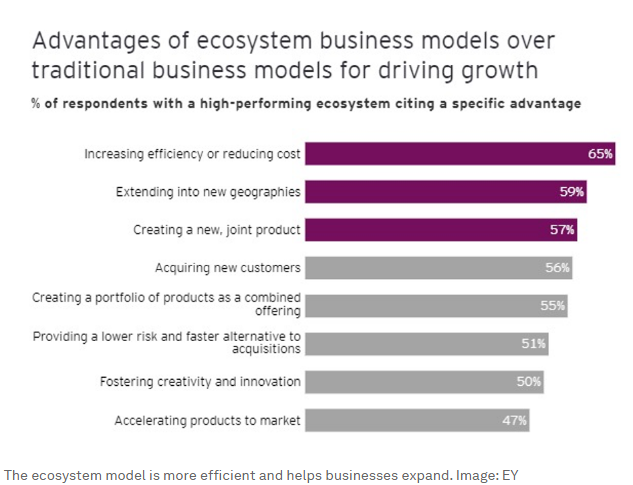 Be competitive by being collaborative
We need to reconsider how we operate. Competition has long been the default mode for companies across industries — indeed, an element of competition will always be necessary to drive growth. But the time has come to recognise that collaborative models may outperform purely competitive ones. Understanding when and how to integrate these seemingly opposing approaches may just be the key to success in a complex, fast changing world.
Take Mercedes-Benz and BMW. Two automotive businesses whose customers aren't just looking for cars, per se, but to get from point A to point B. In a competitive market, they pooled carsharing services, combined taxi apps and e-scooter providers to create mobility "superapp" FreeNow, which can offer multiple forms of transport to customers across 16 countries. The result was a bigger slice of the pie for everyone.
These business alliances give companies rapid access to the technology, skills and data that lead to innovation, as well as increased agility and resilience. Just as flora and fauna cooperate in nature, these ecosystems are increasingly critical for companies to adapt, thrive and survive. In fact, a recent EY survey of business leaders operating within at least one ecosystem attribute on average 13.7% of total annual revenues, 12.9% in cost reduction and 13.3% in incremental earnings to working in this way.
This is why over the last five years EY teams have developed an ecosystem of more than 100 alliance partners, including Dell Technologies, IBM, Microsoft, SAP and ServiceNow for the benefit of EY clients who can unlock sustainable, long-term value due to the data, relationships and technology that these ecosystems offer.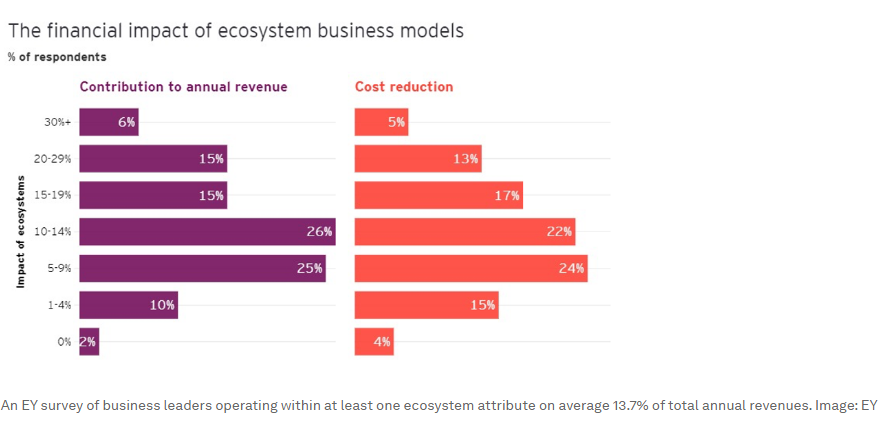 Collaboration and social challenges
But ecosystems aren't just commercially advantageous; they're also critical in allowing business to positively impact the communities where they operate.
EY has seen this firsthand with the creation of its Neuro-Diverse Centers of Excellence. These operate as an ecosystem of different institutions, where year on year EY and SAP work together to focus business clients, academic institutions, the public sector and NGOs on applying the talents of individuals with cognitive differences such as dyslexia, ADHD, autism and Asperger's syndrome. This ecosystem's common goal benefits everybody — providing access to diverse skillsets, new ways of thinking and inclusive employment — which wouldn't be possible without collaboration.
Collaboration is also critical to address global issues like climate change, where bringing together technology like Microsoft's cloud platforms and Azure blockchain capabilities has provided tamper-proof and hyper-accurate carbon tracking.
Ecosystems are at the heart of these solutions because they work.
Getting the mindset right
To fully reap the benefits of collaboration, businesses must deploy ecosystem business models effectively – but that doesn't happen overnight. They cannot be one-off endeavors; they must be baked into the culture of organizations.
As CEOs and business leaders, we're often conditioned to take a zero-sum approach. The more services or products we sell to customers the less our competitors do, and vice versa. The problem with that mindset is that it limits the opportunities to respond quickly, align with those who have complementary resources, and swiftly innovate to deliver to the market efficiently and effectively.
To do this right, instead of thinking about the service, product or process, companies must ask themselves this: what problem are we trying to solve? If I cannot solve it alone, who has the piece of the puzzle I need? And, critically, how do I assemble these partners in the right mutually advantageous model to deliver a solution?
These are questions EY is asking. Right now, the organization is considering a proposal to split into two distinct organizations, subject to a partner vote, with one of the primary benefits being the ability to expand our ecosystem with partners and alliances that may have been restricted before.
The urgency around collaboration will only grow in the coming years, as technological innovation continues to march forward in a context of growing economic and social complexity.
Business leaders that want to seize emerging technologies, outperform the market and address pressing societal issues must get on board with ecosystems. The future of competition is collaboration.
*Global Chairman and Chief Executive Officer, EY
**first published in: Weforum.org