by Felix Richter*
While few industries have been spared by the impact of the Covid-19 pandemic over the past three years, even fewer have been hit as hard as the tourism sector. After Covid-19 had made 2020 "the worst year in tourism history", international tourist arrivals increased by just 11 percent in 2021, as travel restrictions remained in place for protracted periods in many parts of the world. Now, almost three years after the WHO declared Covid-19 a pandemic, optimism has finally returned to the industry. "Tourism always comes back," UNWTO Secretary-General Zurab Pololiksahvili said at the inauguration ceremony of ITB Berlin 2023, as the world's leading tourism trade fair celebrates its first in-person event since 2019.
As the following chart shows, global tourism bounced back strongly in 2022, as international tourist arrivals more than doubled compared to the previous two years. The recent reopening of China further fueled optimism in the tourism sector as Asia lagged behind other regions in the recovery from the Covid-19 shock. According to UNWTO estimates, international tourist arrivals could reach 80 to 95 percent of pre-pandemic levels this year, depending on how quickly travel bounces back across Asia. Last year, international tourist arrivals in Asia and the Pacific trailed pre-pandemic levels by more than 75 percent, while Europe and the Middle East came within 20 percent of 2019 numbers.
Prior to the coronavirus outbreak, the global tourism sector had seen almost uninterrupted growth for decades. Since 1980, the number of international arrivals skyrocketed from 277 million to nearly 1.5 billion in 2019. As our chart shows, the two largest crises of the past decades, the SARS epidemic of 2003 and the global financial crisis of 2009, were minor bumps in the road compared to the Covid-19 pandemic.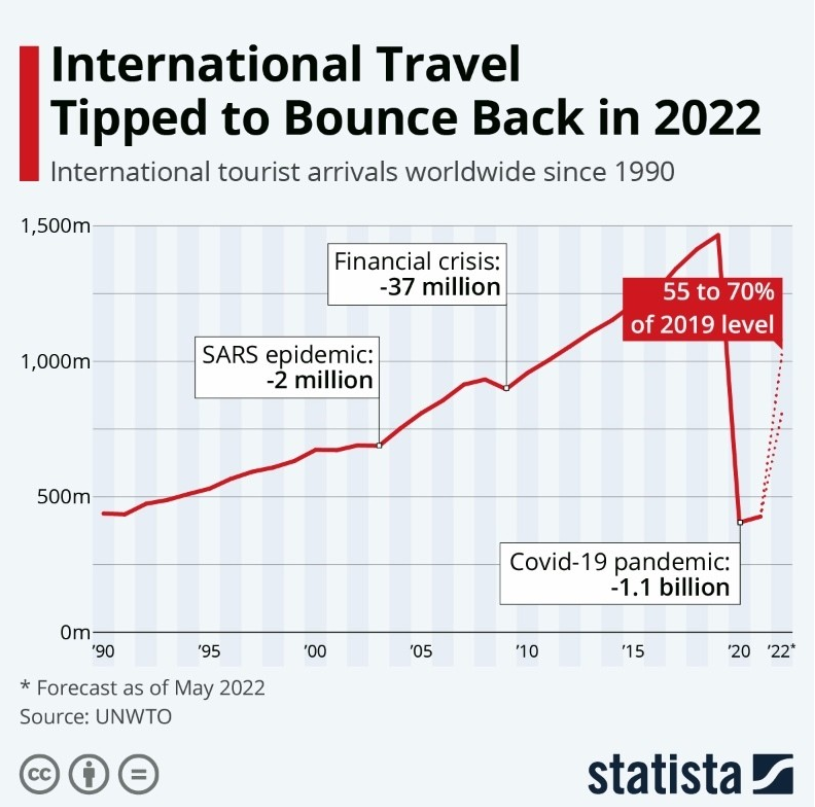 *Data Journalist, Statista
**first published in: Weforum.org