by Dimitri Zabelin*
In the coming decades, Africa will become a pivotal player in international affairs. A confluence of the continent's abundance of strategic resources, favourable demographics and attractive growth prospects may give its leaders leverage in modern affairs. The US-China rivalry and push for net-zero emissions will be key catalysts for transforming Africa into a geopolitical fulcrum.
Furthermore, the maturation of global standards for democracy and sovereignty gives African countries institutional support to deter asymmetrical, 19th-century-level plundering of its resources. While major obstacles of poverty, corruption and intra-regional conflicts are formidable, the conditions are ripening for Africa to accelerate its development.
Macroeconomic and demographic outlook
Africa's population will reach 2.5 billion people by 2050, and will constitute what is expected to be a quarter of the world's populace. According to a study conducted by EY, sub-Saharan Africa will soon be the only place with birth rates at replacement level or higher, while major economies like China, the US and Europe are expected to see major demographic decline.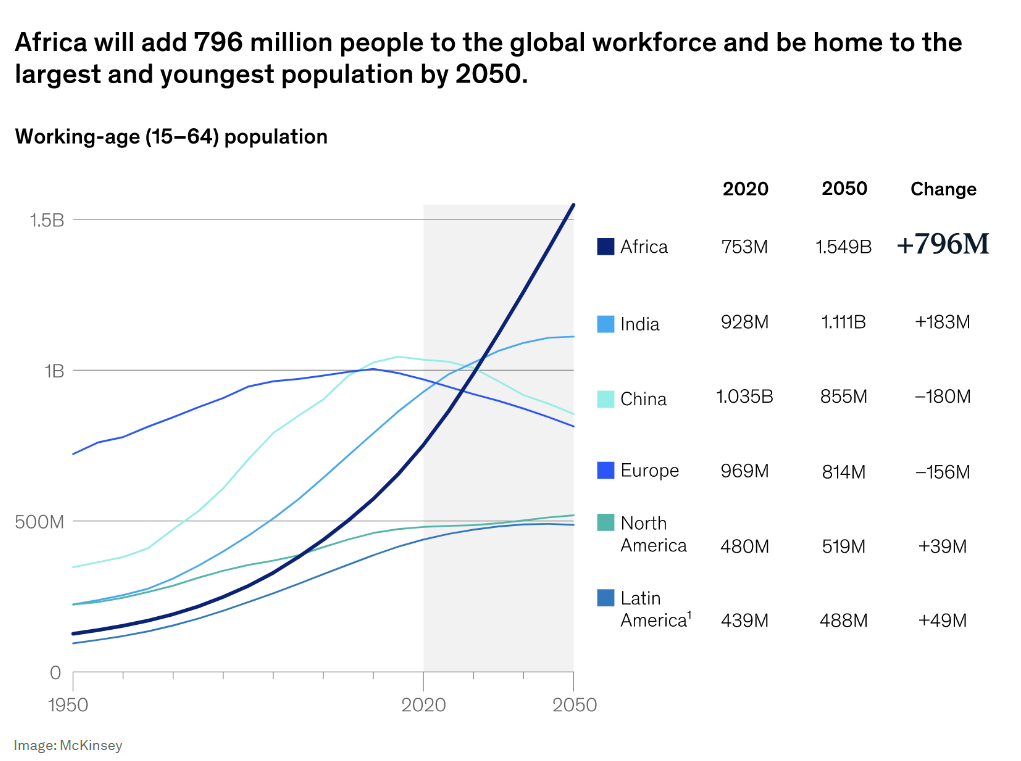 The same study also found that the median age for the continent is 18, 14 years younger than any other region. As a result of these favorable demographics, the African middle class is anticipated to reach 1.1 billion by 2060, up from 355 million in 2010. McKinsey's research also found that as early as 2030, 250 million Africans are expected to unlock $3 trillion in consumer spending.
E-commerce is also on the rise across the continent, as analysts forecast internet users will increase from 520 million in 2021 to over 850 million by 2030. Policies to accelerate these trends will differ by country; in Ethiopia, for example, we are seeing far more government involvement than in the more market-driven models of Ghana and Kenya.
Rich in strategic resources
The African continent boasts 30% of the world's mineral reserves, and demand for rare earth metals alone is expected to reach 315,000 tons by 2030, more than double the volume in 2021. The urgency to increase exploration efforts of these strategic resources rises at a commensurate level to the commercial opportunities presented in their excavation.
The diverse use of these metals in strategic industrial products with consumer-facing and military defense applications is prompting foreign powers to scale up endeavors to secure these metals. The ongoing US-China rivalry is the paragon of this dynamic, and the technological competition and domestic goals of achieving net-zero emissions are both fueling a new scramble for Africa.
The Congo alone holds over 70% of the world's cobalt, a highly versatile metal with numerous commercial applications and a critical input for the production of lithium-ion batteries for EVs. Leveraging this demand to generate revenues that can be used for financing developmental goals will be crucial if African countries are to achieve socio-economic stability.
According to an analysis conducted by Brookings, drawing on the African Continental Free Trade Area and other pan-African institutions will allow regional leaders to "leverage their rich endowments of resources to join strategic global value chains and utilize revenue inflows to support equitable economic growth."
The author went on to highlight the importance of encouraging so-called friend-shoring, specifically with countries that uphold traditional liberal values of democracy, universal human rights and free trade. These are not only moral imperatives, but policies that demonstrably support economic growth and foreign direct investment.
Obstacles: war, poverty and corruption
Despite the continent's bright prospects, intra-regional conflicts, widespread poverty and growth-crippling corruption stand as hindrances. According to the Geneva Academy, Africa comes second in the number of armed conflicts per region, "with more than 35 non-international armed conflicts" currently ongoing.
Sixty percent of the population lives in poverty, and despite the structural shift to services, the real productivity of the sector is far below its emerging market peers. Currently, Africa bears the highest proportion of extreme poverty rates on a global scale: it is home to 23 of the 28 poorest nations in the world experiencing extreme poverty rates surpassing 30%.
Sub-Saharan Africa in particular suffers from rampant corruption, accentuating the existing structural challenges of poverty and suboptimal productivity. Furthermore, the siphoning of state resources for personal gain under authoritarian regimes not only undermines democracy and security, but also restrains economic growth and discourages foreign investment. A meta-regression analysis conducted in 2018 concluded that democracies — and their associated institutions — attract more foreign direct investment than autocracies.
Improvements offer hope
While domestic political volatility and uncertainty continues to cloud the outlook, there have been some improvements in governance and democratic reforms. Rooting out corruption is therefore a necessary precursor for creating an environment that is conducive to economic growth and foreign investment. The structural demographic advantage is already there.
Furthermore, Africa trades much more with economies outside its continental borders than within, as opposed to ASEAN and many countries in South America. Supporting and facilitating intra-regional trade will therefore create greater independence and make the cost of conflict too high to bear. Fostering connectivity is therefore as much a moral virtue as it is a strategic policy.
*Geopolitical Strategist, Pantheon Insights
**first published in: Weforum.org