Antalya: The Tourism Capital of Turkey
Antalya.. a beautiful city, which has more to offer than sea and sun to its more than 10 million annual visitors. The city, at the Mediterranean coast of Turkey, is well known as the "tourism capital" of the country and has been selected as the best town of the Mediterranean region in the last year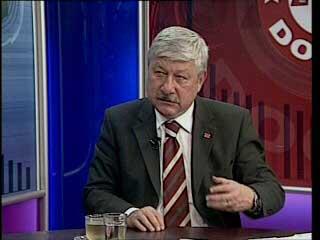 Besides the 10 million tourists visiting us annually, we have 50 thousand "foreigners" settled here. They are a part of the city life. Antalya is a kind of modern Babil, where different people and cultures melt. It is a city of dreams with magnificent historical remains from Ancient Greece and Rome. At a time when we all are worried of the clash of civilisations, in Antalya people are living as a part of "one civilisation" with a million colors.
MORE ON Interviews
The city with most 5 star hotels of the world. Antalya will be in the future European Cultural Capital.

This city hosted on February 19-22, 2010, over 100 tourism and environment reporters from 52 countries. All of them very pleased with what the city offers naturally and infrastructural, and very satisfied with the hospitality of the Municipality of Antalya. They returned home as "ambassadors of Antalya".

Prof. Mustafa Akaydin, Mayor of Antalya, who had a surprising election victory last year, answered the questions of European Business Review during the "Media and Tourism Symposium" hosted by his city.

- Mr. Mayor, your success in the municipal elections in 2009 was the most unexpected thing to happen in the whole country. The former mayor of the city, from the ruling Justice and Development Party (AKP) of PM Recep Tayyip Erdogan, was expected to win again. Could you, please, tell us about yourself and secret behind your election victory?

I am a professor of medicine and a surgeon. I have conducted the rector ship of the only university of Antalya for a long time. In these elections, I believe that we have analysed the fact that Antalya is a tourist town. This, indeed, led us achieve the success. The number of the five star hotels in Antalya, I think, is about 170, plus we have 80 holiday villages, and this is surely incomparable. Moreover, there are also seven star ultra modern hotels. Along our coast, you can actually view the hotels built as the models of Topkapi Palace, Concorde airplanes, Titanic or the Red Square of Moscow. The amount of capital that is flowing only in the realm of tourism here is more than national incomes of many of the African states. However all this wealth does not return to Antalya as welfare and the city potential is not being used efficiently.
I put a vision in front of the electorates. I vision which I believe and devoted myself. This city gets 10 million tourists each year. I have the responsibility for the people of Antalya. This city will be nature friendly; it will not repeat the mistakes of other cities invaded by concrete buildings. It will respect the green.
Our main income is from tourism. I am responsible for our visitors. "All inclusive" tourism does not help anyone; not the people of Antalya, not the hotel owners and not the tourists. My target and vision is to turn Antalya into a tourism city of 12 months. I told this to the electorate.

- So, your dream and vision is to make Antalya a 12 months tourism city and the electorate obviously shares this vision?

This city is not only sea and sun. We have mountains, rivers, waterfalls, lakes, caves, historical sites, ancient cities, extraordinary entertainment facilities within the city. It is a pity for those "all inclusive" visitors who return from Antalya without seeing any of them. I am indebted to the sea and sun of Antalya. I swim every morning even in February. It was 2 degrees in Berlin today, minus 12 in Moscow and it is 25 degrees here.
We have to find a way to keep all our hotels open 12 months. I want to make Antalya also the capital of health tourism. A Russian citizen who had a heart surgery in Moscow and recommended to walk in open air cannot do under minus 20 degrees. A Norwegian cancer patient can make her or his struggle against this disease much successfully in the soft climate of Antalya. Our hotels may serve such patients in their recreation periods.
Antalya is a university city. Warm winter months and the flat city location contribute to the life quality of students. Our empty hotels may serve as student hostels, dormitories. Sports club of the world already began coming to Antalya for training.
Retired elderly people of Europe already came and 50 thousand of them settled here. They came even before we invited them. Imagine how it will be if we succeeded to get the students, patients, sports people to our city and could increase our tourism season to 12 moths. I told all these to the people, they trusted me and elected me.

- As far as I understand, Mr. Mayor, you are not happy with the current condition of the town which has one of the highest tourism revenues in the world?

Not at all. We are thankful for what we already have but we think that tourism which only indicates to sun and sea is not what Antalya deserves. Antalya has greater richness, as I already mentioned.
For instance, concerning its location, it is two hours away from Europe, Caucasia, Russia, Middle East and North Africa by plane. The second largest airport of Turkey is in Antalya. You only need a simple jacket here to spend the coldest months of the year. In this case, Antalya holds a great potential for educational and health tourism.
During my rector ship, I had observed that many young people from Russia and Northern Europe tend to study in Antalya given that there is a good university. This idea attracts many investors. We will do our best as the municipality of Antalya and me as the mayor, to help those who would invest here for opening high standard international universities.
On the other hand, Antalya has a spectacular natural richness. It has the end line of forests of the northern hemisphere. Besides, we have such mountains which were an inspiration for the ancient civilizations. It is a shame to ignore all of these and to be confined to the five months of the year.

- You mentioned your vision about health, educational and cultural tourism. Are you convinced that that kind of tourism will have bigger share in the tourism potential of the city in the future?

I both anticipate and work as hard as I can for it to become real. I'd like to add sports, too, as another theme. Everybody looks at the sea but Antalya is the best location in Europe for mountain climbing, speleology and river sports etc. Tragic history of Beirut and the current position of the dream of Dubai which was built in the middle of desert is a great opportunity for Antalya. Especially our mild winter draws European middle class and elderly population to Antalya. We are trying to expedite these processes. In addition, I am both a medical doctor and a university administrator. I explain to the investors from all over the world that how Antalya can become an international base of educational and health institutions. Some of the wise investors have already started considering this. Within the next 5 five years, the best hospitals will be founded in Antalya along with the best hotels of the world. Soon, two of the major universities are expected to build their campus here. I am sure that their numbers will increase. When the investors of this kind come to Antalya, I and my team who already have the expertise, easily make close contacts. I can speak the language of the person who intends to found a hospital or a university. Because, in the past, I have founded both.

- What about 2010?

Let me tell you about our big projects for this year. The first one is "Ismail Cem TV Awards". Turkey is the biggest tv program exporter within the area which is now being called as "Middle Earth" including Balkans, Caucasia, Middle East and Northern Africa. Turkish artists are very well known among these countries. Thus, we attempted to organize a prestigious festival. We have collaborated with many groups such as Int. Emmy, ART, HBO, Natpe and so on. We will bring our Israeli and Arabic friends to Antalya. Because the thing they love in common is "Antalya and the Turkish Series". This festival draws international attention more than we expected. In this case, I guess, we will meet again this April. But, this time, please bring your tv cameras with you. In November, I believe some of you will again be our guests, this time for the annual congress of the Association of European Journalist (AEJ) which we will be hosting.

I want to stress another characteristic of Antalya which we would like to underline not for 2010 but for the next years ahead. In the streets of this city you may hear several languages. Besides the 10 million tourists visiting us annually, we have 50 thousand "foreigners" settled here. They are a part of the city life. Antalya is a kind of modern Babil, where different people and cultures melt. It is a city of dreams with magnificent historical remains from Ancient Greece and Rome. At a time when we all are worried of the clash of civilisations, in Antalya people are living as a part of "one civilisation" with a million colors. In this Muslim country, people of Antalya live in a social climate far away from fundamentalism and in peace with peoples of different believes. With all these characteristics and its potentials, I believe, Antalya also deserves to be the Cultural Capital of Europe. We may host you in some years in Antalya, where will get the title Cultural Capital of Europe.

- Mr. Mayor, thank you for your time and thank you also for your municipality's media-friendly approach.