by John Letzing* 
Geo-economic friction has hit the world's trade referee where it hurts, by dismantling the decision-making body at the core of the WTO.
The hobbling of the Appellate Body at the World Trade Organization, a 24-year-old institution meant to keep global trade on track, marks an inflection point. The US has long complained that the WTO unfairly allows China to subsidise its cheap exports, and it has taken particular aim at the Appellate Body. Tensions have increased alongside the inexorable rise of a Chinese economy that poses threats to US influence.
Last week, the Appellate Body's seven members were whittled down to just one – when the terms of two expired, as four vacancies remained open due to a US block on new appointments. Normally, three members are required to hear appeals. It's unclear whether the WTO will able to revive the body, or devise a new mechanism for resolving thorny issues. In his farewell remarks delivered earlier this year, a former Appellate Body member cautioned that returning to a pre-WTO type of system might mean returning to one where might trumps legal right.
The WTO's Appellate Body can uphold, modify, or reverse the findings of panels of experts regularly tasked with considering disputes – and its reports are often the last word on serious geo-economic conflict. Notable decisions from the past involved a battle over a European Union "banana regime," and a US ban on shrimp from Asian countries trawling in a way that threatened sea turtles. Countries bring dozens of disputes to the WTO during any given year, though not all result in a ruling from the Appellate Body. Many have been a result of the US confronting the world's second-biggest economy: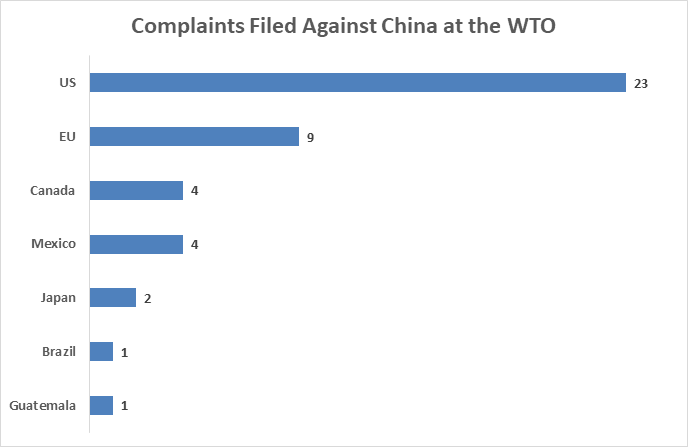 A Different Ballgame
The global trade landscape looked very different when the WTO emerged. Much of that has to do with the subsequent development of China as an exporting heavyweight. Here we see different countries' shares of global merchandise exports in US dollar terms as of 1995 – when the WTO was founded – and as of 2018: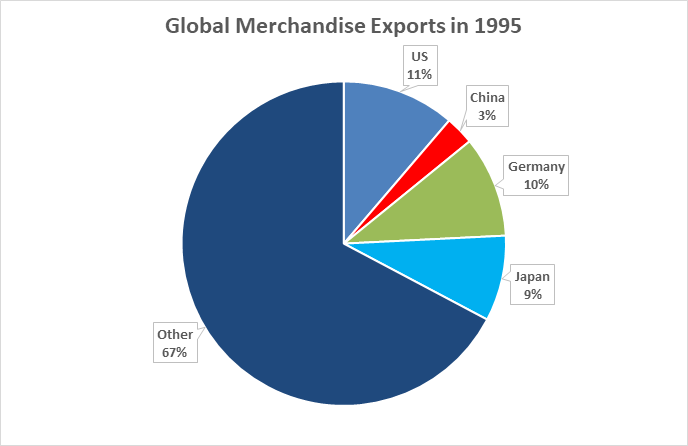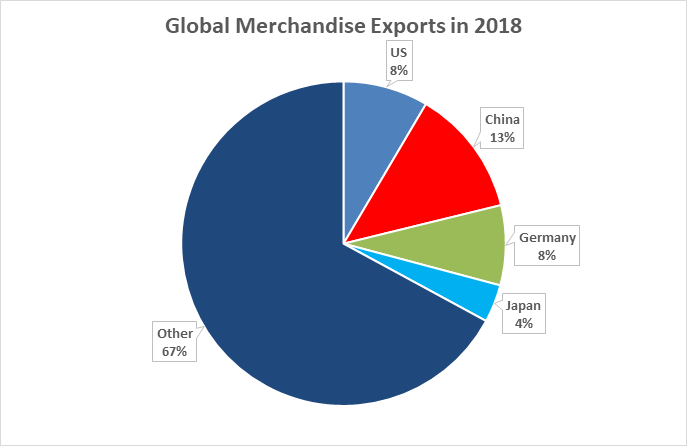 Impressive Growth
China's rising trade clout comes on the back of the country's brisk economic growth during the past few decades. Chinese GDP rose annually by as much 14.2% during the 1990s, and by the time the country became a WTO member in 2001 GDP had reached $1.3 trillion. By 2018, GDP would reach $13.6 trillion.
For more context, here's a set of links to deeper reading courtesy of the World Economic Forum's Strategic Intelligence platform:
- The truth is China has only been a defendant in 12.6% of the disputes brought to the WTO since the country became a member – in line with China's share of global exports. Killing the WTO's Appellate Body is not a solution, but changing its rules so no single country can block a nominee to serve on the body might be. (Project Syndicate)
- America initially applauded China's WTO accession. But roughly a decade later, a politicized debate about the effects of Chinese economic policy on the US emerged – followed by a flurry of WTO complaints. All were either successfully settled or ruled in favour of the US. (German Institute for International and Security Affairs)
- WTO members continue to turn to expert panels to resolve trade disputes, suggesting that they still have confidence in the organisation's ability to resolve a standoff. But without a functioning Appellate Body at one end of that system, it loses its predictability – and may ultimately collapse. (Vox)
- China's WTO status as a "developing member" potentially entitled to special treatment has been a sticking point for the US. While China may have relinquished most special treatment, it has also failed to implement commitments such as submitting notification when it subsidises its massive fisheries industry. (CEPS)
- As trade suffers, so does the global economy. More weakness is now anticipated, not least due to ongoing trade friction. The WTO recently slashed its forecast for annual global trade growth in 2019 from 2.6% to just 1.2%, and the risk of a worldwide recession has increased in lockstep. (Brookings)
- Many Brexit supporters in the United Kingdom see the WTO as a desirable framework for independently navigating global trade once the country splits from the EU. But even before the organisation's Appellate Body was stripped down, the WTO had been undermined by outdated rules, US trade policy, and China's support for its own industries. (LSE)
On the Strategic Intelligence platform you can find feeds of expert analysis related to International Trade, Geo-economics and hundreds of additional topics. You'll need to register to view.
*Digital Editor, Strategic Intelligence, World Economic Forum
**first published in: www.weforum.org