by Emma Charlton*
-100% of worldwide destinations introduced travel restrictions amid the pandemic.
-Forward-looking scenarios depend on the reopening of borders.
-International tourism arrivals may slump as much as 78% in 2020.
-Industry focuses on when it can reopen, but travel will look very different.
-Face masks may be required on airplanes; social distancing at your destination.
With the world at a standstill, your next holiday probably seems like a lifetime away.
When nations around the globe shut their borders to try to stave off the spread of COVID-19, travel and tourism was among those industries hit the hardest. March arrivals slumped 57% according to the United Nations World Tourism Organization (UNWTO) and all global destinations had some restrictions in place by the end of April.
With these measures ranging in severity from totally or partially closed borders to quarantine or self-isolation for 14 days, any recovery of the sector will likely depend on how and when they are lifted.
And the prognosis for your next trip away isn't encouraging. Current scenarios suggest international tourism arrivals will drop by as much as 78% this year, UNWTO says, while stressing the "highly uncertain" nature of its predictions.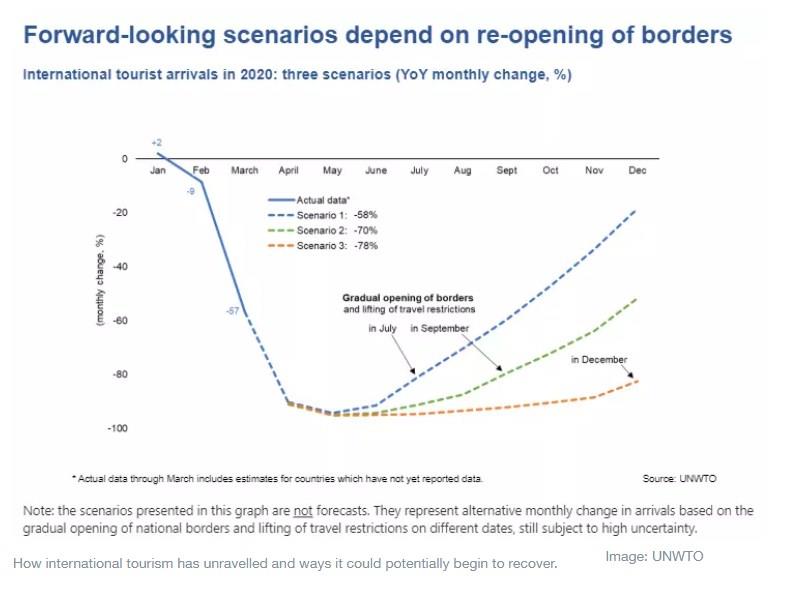 "This is by far the worst result in the historical series of international tourism since 1950 and would put an abrupt end to a ten-year period of sustained growth since the 2009 financial crisis," UNWTO says. "Considerable challenges remain ahead, starting with the unknown duration of the pandemic and travel restrictions, in a context of global economic recession."
So it's clear your next holiday is likely to be very different from any you took before the pandemic; but what does that mean? Here are five ways holidays have probably changed for the foreseeable future:
Sanitizing at the airport
Hong Kong International Airport is testing full-body sanitizing booths that spritz sanitizer on you for 40 seconds, while avoiding the face. The Airport Authority Hong Kong told Business Traveller Asia-Pacific that while these devices are currently being trialled for staff, it may use them on passengers in the future.
Other airports are already practising social distancing and encouraging cleanliness. London's Heathrow has signage across all its terminals reminding passengers to distance themselves at least two metres from others and to wash their hands regularly. The use of electronic check-in and passport control may also be accelerated, as airports look for ways to avoid unnecessary interactions between people.
PPE on the plane
Wearing some sort of protective clothing on the aeroplane is also likely to become the norm, as airlines strive to encourage passengers to feel comfortable flying again.
Airline companies are among the worst hit financially, declaring bankruptcy or asking for government support, and it's hard to see how social distancing could work in such enclosed spaces.
Some firms are already taking steps to shore up confidence in their cleanliness. Korean Air is providing cabin crew with protective gowns and goggles, which are either discarded after each flight or sanitised before reuse.
With many countries now recommending the use of face masks, these may become required for aeroplane passengers.
Uncrowded destinations
Hotels and restaurants will probably drastically change the way they manage guests, experts told the BBC, with usual practices at buffet meals, pools, bars and beaches under scrutiny. This could also mean not filling hotels up to full capacity and limiting the number of guests on beaches at any one time.
Redesigned hotels
At the Prince Hotel Hong Kong, management has asked for a redesign, to include "greater spatial layouts" in public areas and the restaurant and lounge, as well as the incorporation of materials that can easily be sanitised, according to travel industry website Skift.
At the Cary Arms hotel in Devon, England, half the tables in the restaurant will be removed and the rooms fumigated after each guest.
"We possess an ozone gas generator which will be used in each room after a guest checks out and before the next guest checks in," the hotel says on its website. This can "reduce the presence of virus particles" by almost 100% and is similar to technology used in hospitals, it says.
Hospital-grade cleaning
Hotel giant Marriott International has set up a "Cleanliness Council" to advise its global portfolio on best practices. The company, which owns more than 7,300 properties across the globe, is focusing on surface areas, guest contact and food safety.
This will include the use of electrostatic sprayers with hospital-grade disinfectant to sanitize surfaces throughout the hotels.
Other elements may also change, as the travel industry adapts to new health and safety concerns and tries to recover from the devastating impact of the pandemic.
*Senior Writer, Formative Content
**first published in: www.weforum.org