by Pavitra Raja*
For 20 years, the Schwab Foundation set about building one of the world's foremost communities of accomplished social change leaders. It supports their impact journeys and provides a platform to amplify their voices and influence world leaders.
In 2019, the Schwab Foundation Social Innovator of the Year Awards expanded to four categories to recognize a new generation of social change leaders across the private, public, social and academic sectors. The development acknowledged the diversity of social innovation models and highlighted the global momentum for social innovation and the need to work across industries on complex and systemic issues. However, unlike social entrepreneurship, corporate intrapreneurship and thought leadership, the role of a public social intrapreneur is not well understood.
What is a "public social intrapreneur?"
Public social intrapreneurs are champions within governments and international organizations that harness social innovation's power to create public good through appropriate policy, regulatory tools and programmes. They work to create better policy environments, public programmes and investments that enable social innovators to thrive and citizens to benefit and become active agents of change in society.
As 2019 Schwab awardee Geoff Mulgan, former Chief Executive of Nesta, stated, "Public sectors around the world are having to ratchet up their capacity to innovate – opening themselves not just to the creativity of their own staff but also to the creativity of civil society and social innovators as well as tech and business."
These innovators catalyze governments and large institutions to create more inclusive cities and equitable growth. The Schwab Foundation is the first entity to award public social intrapreneurs who are shaping a better world in several ways.
How social intrapreneurs make change
Shaping policies to enable social innovation
Public social intrapreneurs from the Schwab Foundation's community have contributed to the shaping of six national policies and through their work in international organizations, have a pan-national impact. For example, Ann Branch at the European Commission has recently contributed to adopting a Social Economy Action Plan with concrete measures and a €1 billion fund to help mobilize and support the 27 European countries in developing policies and programmes to advance the social economy. Meanwhile, Kim In-Sun, President of the Korea Social Enterprise Promotion Agency, is shifting the financial landscape of South Korea to support social enterprises through innovative funding models.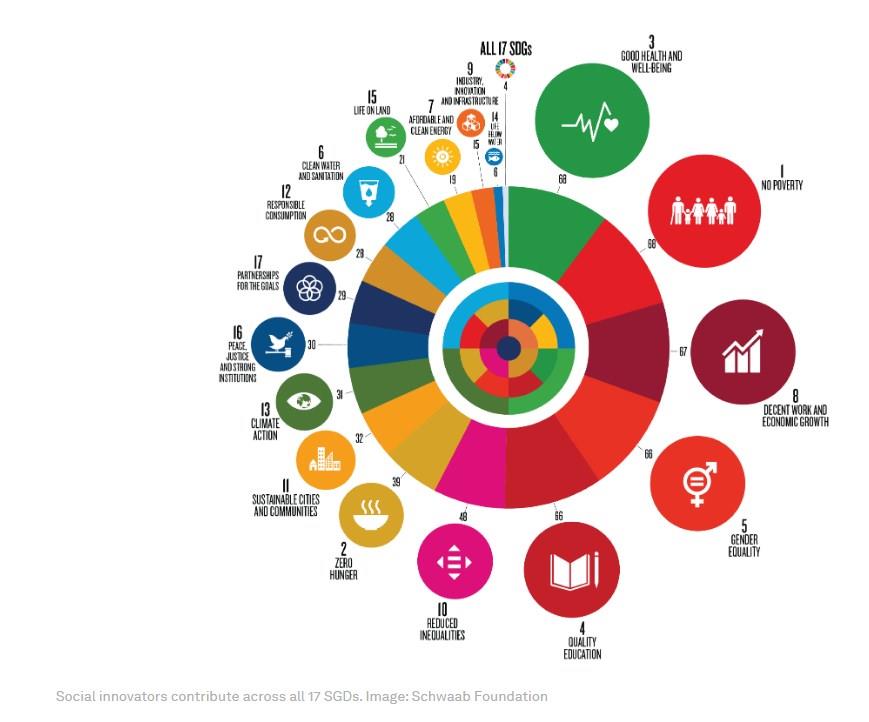 Citizen participation and engagement
Public social intrapreneurs enable greater citizen participation and engagement. For example, Cynthia McCaffrey, as Director of Global Innovation for UNICEF, created new models of partnership that leverage core business values in the public, private and academic sectors to deliver fast and lasting results for children. Led by Sanjay Pradhan, Open Government Partnership secured 2,500 transparency commitments that increase citizen access to policy decision-making and delivery globally.
"Our reform agenda is to address crises of democracy. Using these mechanisms, you can tackle other crises we have – pandemic, climate, inequality. Enabling citizens to be informed and getting their voices heard on adaptation and reform … Hope comes from courageous reformers – and results," said Pradhan, a 2022 awardee.
Rebalancing resources
Public social intrapreneurs work to rebalance financial and information resource flows toward social innovators. For example, in healthcare, Pradeep Kakkatil, Director of Innovation in UNAIDS, has enabled the mobilization of over $200 million in investments in scaling up identified innovations. As Mayor of Barcelona, Ada Colau decisively shifted the balance of support for social economy and social enterprise by allocating €16 million of the city's budget to supporting the Social and Solidarity Economy.
Advancing collective intelligence
A new field of collective intelligence has emerged in the last few years, prompted by a wave of digital technologies that make it possible for organizations and societies to think at a large scale. Geoff Mulgan, Former Chief Executive at NESTA (UK innovation agency for social good), is harnessing the power of collective intelligence to guide corporations, governments, universities and societies to make the most of human brains and digital technologies.
Investing in social
Public social intrapreneurs are advancing social investments. As the Special Adviser to the President on National Social Welfare Programme, Maryam Uwais adopted a market-based approach to maximize the Impact of GEEP microloans by building highly structured relationships with intermediaries, which include commercial and microfinance banks, microfinance institutions, mobile money operators, and market aggregators in 15 Nigerian states.
Enabling the ecosystem
Critically for the ecosystem, public social intrapreneurs are social innovators themselves, acting as agents of change in the public sector. For example, Jonathan Wong's efforts from within the UN Economic and Social Commission for Asia and the Pacific have resulted in a significant increase in support for policymakers in the region regarding social enterprise and social investment.
Citizens, activists and our youth are crying out for strong action, requiring complex changes within governments. That call is being answered by a committed group of public social intrapreneurs opening pathways for systemic change.
*Programme and Engagement Lead, Europe and Americas - Schwab Foundation, World Economic Forum
**first published in: www.weforum.org