by Douglas Broom*
Schools have a critical role to play in creating an equal and inclusive future, not just in what they teach but also how they enhance the health of the children in their care, according to a new United Nations (UN) report.
Across the world, many children simply can't attend school due to ill health, hunger, poverty and marginalization, says UNESCO, causing a global learning crisis that has only been worsened by the COVID-19 pandemic, affecting the education of 1.6 billion students.
The most vulnerable have been the hardest hit, but as UNESCO reminds us, it is the right of every child to receive quality education, health, food and adequate nutrition in order to realize their full potential. Although there has been substantial progress, the challenge today is bigger than ever.
"The education, health and nutrition of young people are not only rights and ends in themselves; they are an investment in a country's future and in the capacity of its people to lead productive and fulfilling lives," the report says.
Describing school health and nutrition programmes as "a good investment for more sustainable, inclusive and peaceful futures," the report says nine out of 10 nations have already implemented measures to improve child health and support healthy eating.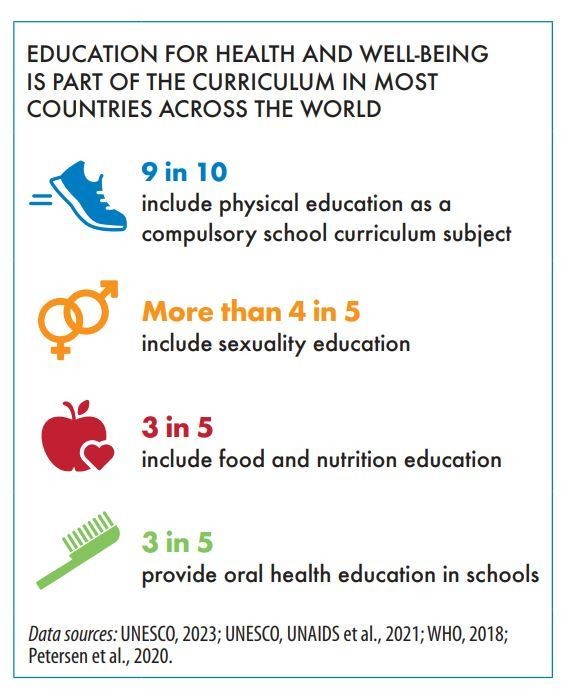 Although most nations are focusing their efforts on primary education, the report says the steady growth in the number of such schemes over the past 20 years means that 62% of secondary schools worldwide now provide some form of health and nutrition support.
Increasing the scope of such programmes to reach secondary schools is particularly valuable. A study by UNICEF found that for every dollar invested in adolescent health, there is an estimated tenfold health, social and economic return.
The World Economic Forum's 2022 Gender Gap report found that, although the health and survival gap has closed by 95.8% and the educational attainment gap by 94.4%, 19 nations still report a literacy gender gap of 25% or more.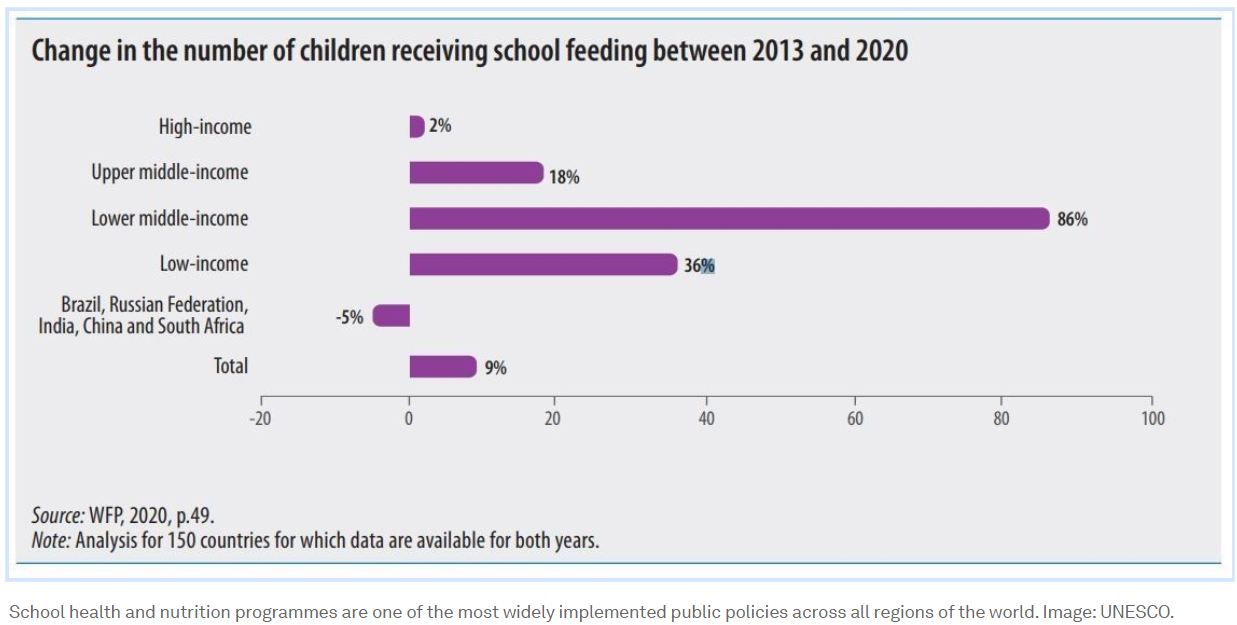 The Forum's Head, Shaping the Future of Health and Healthcare, Shyam Bishen spoke of the importance of the UNESCO report: "The UN findings and recommendations align strongly with the World Economic Forum's health and healthcare mission and our work on key issues such as promoting health equity, protecting women's and girls' health, and addressing obesity and metabolic health."
But he acknowledged there was still much more work to do. "In particular, though school feeding has increased, we must highlight the urgent need to provide better nutrition in the face of rising obesity prevalence which is expected to double to nearly 20% of the world's children and adolescents by 2035, affecting all regions including LMICs [low- and middle-income countries]."
Benefits of school health and nutrition programmes
UNESCO says daily school meals play a key role in reducing gender disparities and improving girls' test scores. "Where families undervalue education for girls, increasing other benefits of schooling, such as providing food or health services, has a positive impact on their attendance and enrolment," the report adds.
Only 1% of global education spending goes on health and nutrition, yet the benefits it brings are critical to achieving the UN Sustainable Development Goals. UNESCO says school health and nutrition schemes have so far:
-Added two and a half years of schooling for some pupils by providing de-worming and nutrient supplements in areas where these issues are common.
-Increased school enrolment and attendance between 8% and 9% where school meals are provided.
-Reduced levels of anaemia in adolescent girls by a fifth by providing micronutrients.
-Increased the probability of passing tests in reading and mathematics by 5% by providing free vision-screening and glasses.
-Reduced absenteeism due to malaria by over 60% through disease prevention measures.
-Reduced absenteeism by between 21% to 61% in low-income countries by promoting handwashing.
-Halving the number of school days skipped by the victims of school bullying by tackling school violence.
-Reducing the risk of HIV and early unintended pregnancy – one of the causes of school dropout among girls – by providing sexuality education.
"School health and nutrition programmes are one of the most widely implemented public policies across all regions of the world," the report concludes. "These investments demonstrate growing recognition of the central role of the school system in protecting and promoting health, nutrition and well-being."
*Senior Writer, Forum Agenda
**first published in: Weforum.org