by Charlotte Edmond*
A slump in trade that started in the fourth quarter of 2022 has led the World Trade Organization (WTO) to downgrade its expectations of global trade in goods in 2023.
The WTO now expects that the global trade in merchandise will grow just 0.8% in 2023, down from its earlier forecast of 1.7%. It is still expecting a stronger performance in 2024, with its projection of 3.3% growth remaining unchanged.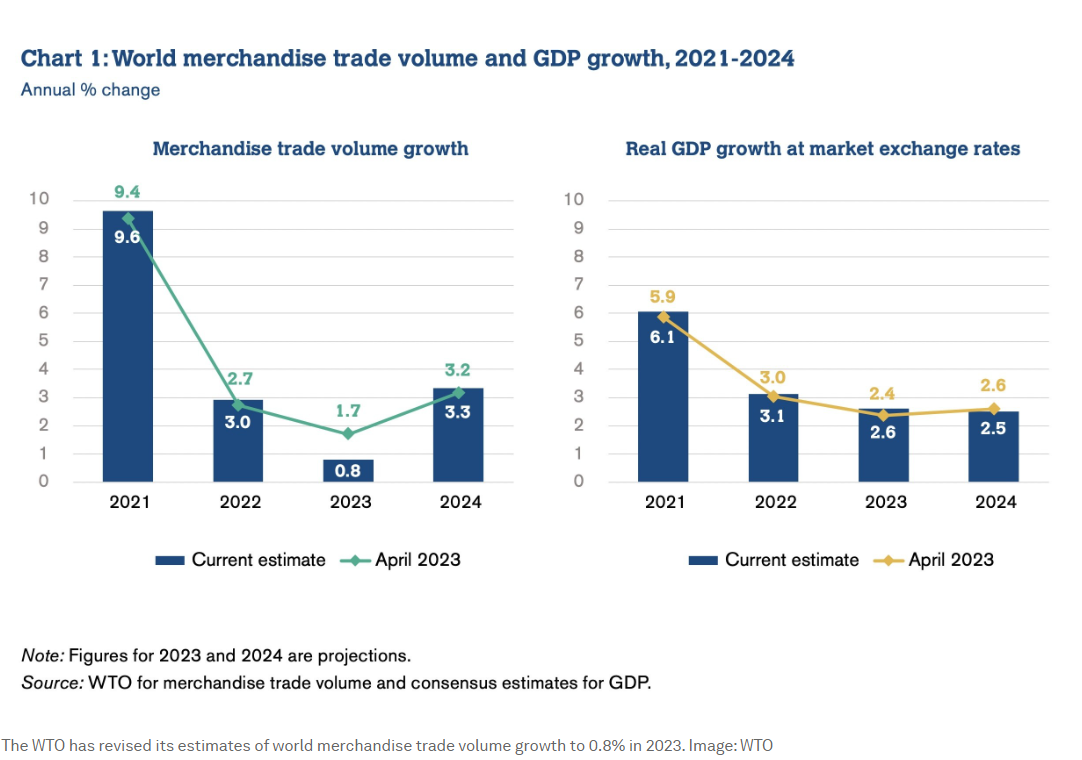 The revision in large part is due to a downgrading of growth expectations in North America and Asia, which together with Europe, account for the vast majority of world trade.
Trade is expected to grow more slowly than GDP this year – but that will likely reverse next year.
"Such swings are not unusual given the relatively large share of business-cycle-sensitive investment and durable goods in trade compared to GDP," the WTO explains in its October 2023 Global Trade Outlook.
A broad-based slowdown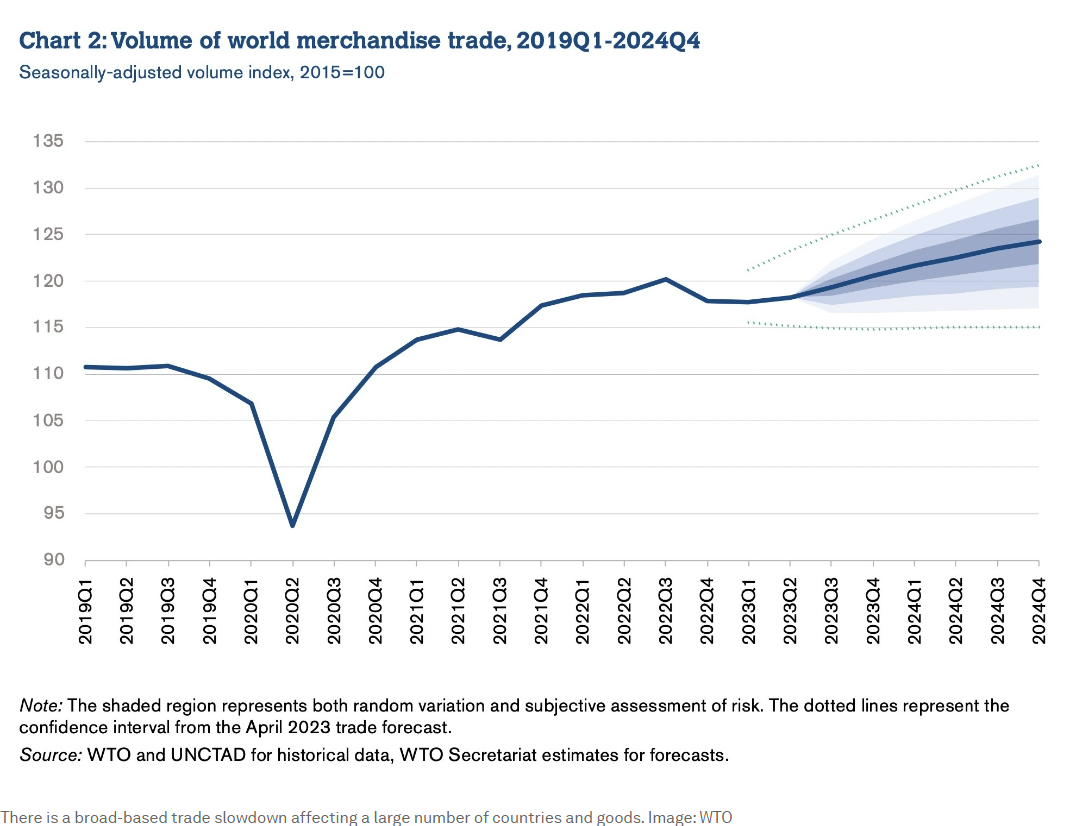 The slowdown has been driven by several factors, including high inflation and interest rates in several countries, as well as the war in Ukraine and other geopolitical tensions. It is also broad-based, affecting a large number of countries and a broad range of goods.
China's economy has rebounded less strongly than expected post-pandemic – and should the downturn it is currently experiencing become sharper, this would have a marked effect on the trade outlook.
The knock-on of inflation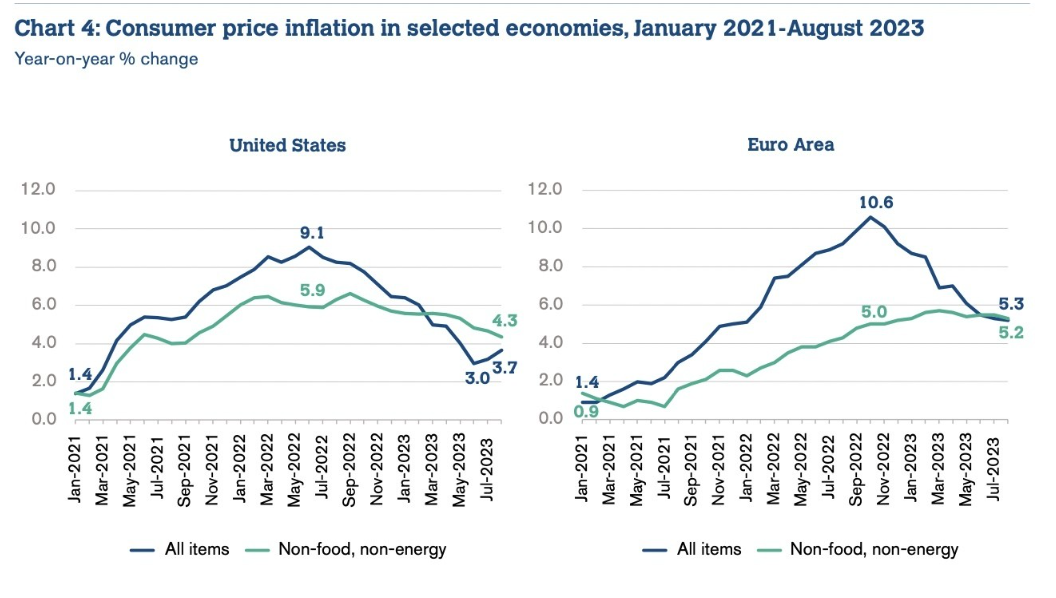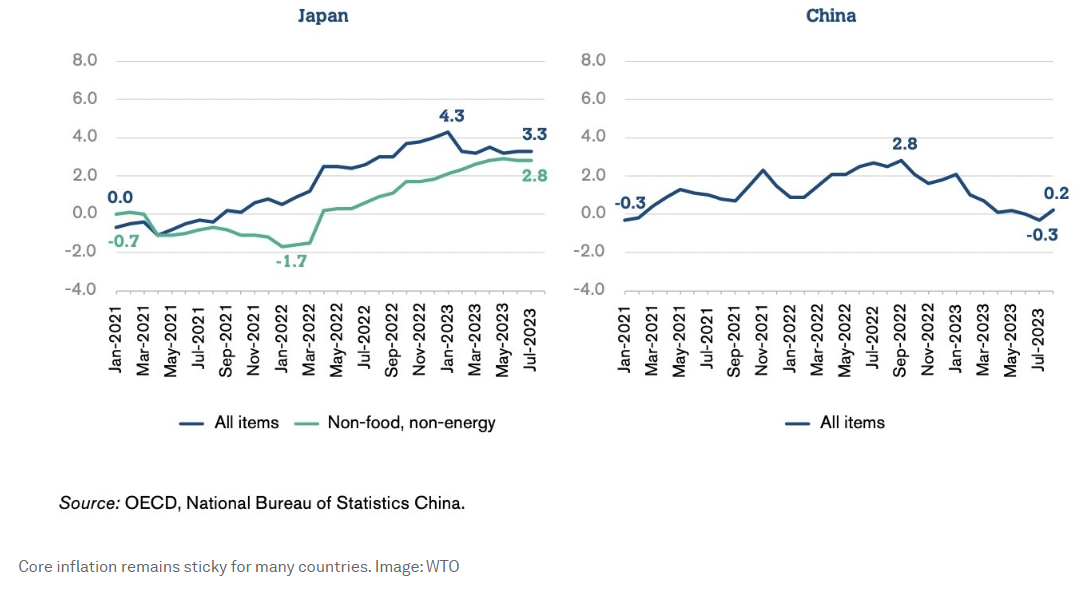 Inflation in developed economies will also continue to play a part. If high interest rates are required to remain in place for longer should inflation resurge, demand will be dampened as a result.
Although falling energy and food prices in many countries have contributed to bringing down headline inflation, core inflation remains sticky. So, while interest rates remain high to control inflation, the report explains that trade and output will be depressed.
Equally, if inflation drops, trade could also blossom on the back of revised monetary policies.
The World Economic Forum's September 2023 Chief Economists Outlook shows signs of optimism about easing inflationary pressures. However, the economic outlook remains uncertain, with expectations the global economy will weaken in the coming year.
Falling commodity prices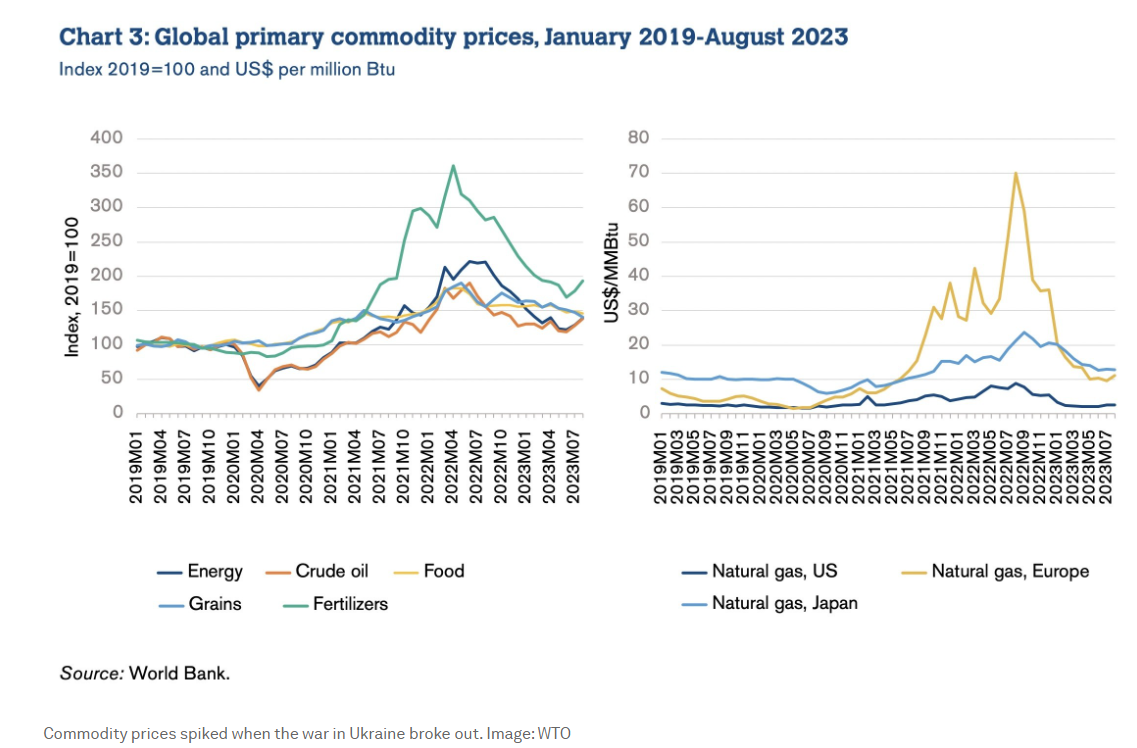 When Russia invaded Ukraine in 2022, commodity prices spiked in anticipation of supply disruptions. The value of crude oil and gas peaked in mid-2022, and although prices have fallen sharply since that point, they remain high compared to historic rates.
A harsh winter in the Northern Hemisphere or further disruptions or problems with the energy infrastructure could cause prices to spike once again. A rise in energy prices would affect real incomes, which for many people are already being eaten into by increased food costs.
Import and export volumes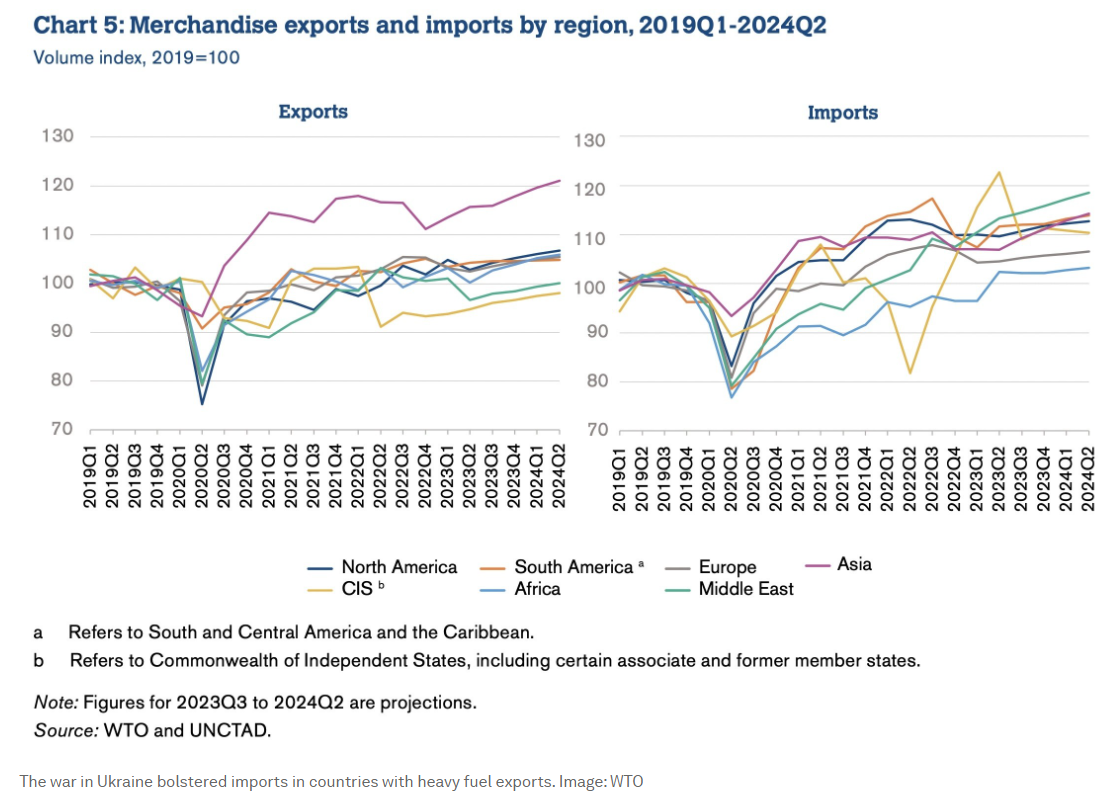 The Commonwealth of Independent States, the Middle East and Africa have all seen export revenues boosted on the back of fuel demand since the war in Ukraine started. This, in turn, has led to faster growth in imports than elsewhere in the first half of 2023, with Europe, Asia, and North and South America all registering declines in comparison, the WTO says.
The second half of the year is expected to see a return to growth for import volumes in Asia and North America, with less strong performance in Europe.
Looking at the longer view, import volumes were up sharply in some cases in most regions between 2019 and 2023, except for Africa, which registered a slight decline.
On the export side, Asia continues to be buoyed by pandemic manufacturing compared to 2019 levels, but the overall volume of its exports has been flat for some time now. In the first half of the year, Asia's export volume was up 14.6% compared to 2019. This compares to 3.8% in North America, 3.9% in South America and 2.8% in Europe.
The view into 2024
The WTO expects North America to register the strongest export growth of any region in 2023, followed by the Commonwealth of Independent States (CIS). Aside from Africa, which is expected to see exports decline, it's predicted most other regions will post modest export growth in 2023.
Import growth is expected to be strongest in the CIS in 2023, followed by the Middle East and Africa, whereas other regions will see imports decline.
"Our only certainty around trade in the near term is uncertainty," said Jean-Francois Trinh Tan, the World Economic Forum's lead on metrics and benchmarking. "Keeping a long-term view on trade policy and continued investment in trade facilitating measures are the safest bets for a stronger recovery."
Looking to 2024, positive import and export volume growth is expected to return to all regions with the exception of the CIS, where imports will decline on the back of 2023 levels. Asia is currently predicted to be the fastest-growing region for both imports and exports in 2024.
*Senior Writer, Forum Agenda
**first published in: Weforum.org