Michelle Obama blasts President Trump in her book 'Becoming'
The former first lady, Michelle Obama is rolling out her new titled 'Becoming' with exactly the sort of fanfare we've come to expect from the Obama's' 13-city book tour and touchy-feeling arena interviews by celebrating moderators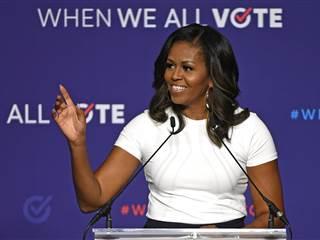 "Mrs. Obama wanted to make her tour as accessible as possible," Tara Traub, senior vice president of Live Nation Touring said in a statement. "The Live Nation team also knew the demand for her tour would be extraordinary. For these reasons, we knew an arena tour would maximize the number of people who will be able to join this unforgettable conversation with the former first lady
MORE ON Analyses
The former first lady, Michelle Obama is rolling out her new titled 'Becoming' with exactly the sort of fanfare we've come to expect from the Obama's' 13-city book tour and touchy-feeling arena interviews by celebrating moderators. It will become big business and her tour starts this month in Chicago's United Center, the home city of the Obama's.
Just for the scale of its venues, there has never been a rollout quit like the one for Obama's memoir 'Becoming' with stops including the Pepsi Center in Denver and American Airlines center in Dallas. While popular authors have been likened to rock stars for years, Obama is the first to promote her book on a scale common for top musical performers, even using the entertainment company Live Nation.
"Mrs. Obama wanted to make her tour as accessible as possible," Tara Traub, senior vice president of Live Nation Touring said in a statement. "The Live Nation team also knew the demand for her tour would be extraordinary. For these reasons, we knew an arena tour would maximize the number of people who will be able to join this unforgettable conversation with the former first lady.
Multimillion-dollar deal for the Obama's
While the traditional bookstore reading is usually free and might be called a success if a few dozen show up, Obama's appearances will be at venues of 15,000 and much higher in capacity, with tickets that range from just
$ 30 to thousands of dollars – to attend the event moderated by Oprah Winfrey. Other stops are planned at large arenas across the nation, with guests including Reese Witherspoon and Sarah Jessica Parker.
Despite some complaints on social media about prices, tickets have been selling so quickly that Live Nation added two additional events, at Barclays Center in New York City and Capitol One Arena in Washington.
In the top 10 on Amazon.com weeks before its Nov. 13 release date, Obama's book seems a guaranteed million-seller - a memoir by a popular first lady with an international following and a relatively limited history of discussing her private life, especially her eight years in the White House. Books by former first ladies have often sold well, with previous releases including Hillary Clinton's "Living History" and Laura Bush's "Spoken from the Heart."
Neither Live Nation nor Obama's publisher, Crown, would give specific details on what the tour will be like and what special guests might turn up, beyond confirming that the former first lady will be interviewed on stage. Crown spokesman David Drake also did not have specific details on the involvement of local booksellers, though he said they will have the "opportunity to participate in and benefit from Mrs. Obama's publication."
Drake declined comment on whether a similar tour is planned for Barack Obama, whose memoir is expected next year. The Obamas agreed in 2017 to a multimillion-dollar deal with Crown for the two books and have projects for other media in the works, including a multiyear production deal with Netflix. Publicity directors for other publishing houses could not think of another time when venues the size of Barclays Center were used for an author.
Clinton's book tour last year for "What Happened" included stops at the Boston Opera House and Seattle's Paramount Theatre, both with capacities of 2,500 to 3000. According to J.K. Rowling's U.S. publisher, Scholastic, the largest event for the "Harry Potter" author has been at New York's Radio City Music Hall, which seats around 6,000.
Michelle Obama blasts President Trump
Laura Ingraham, Fox News anchor said: "Michelle Obama's book launch is just another example of someone cashing in on trashing Donald Trump. And also, of course, it helps set the table for 2020." The former first lady blasts president Donald Trump in her new book, recalling how she reacted in shock the night she learned he would replace her husband in the oval Office and tried to 'block it out'.
Michelle Obama's attack on the president and her dismissive writing off of a whole chunk of the American electorate, and a sizable group of women that she claims that she cares so much about, may be surprising to some but it's really not unexpected. But if Michelle Obama continues the divisive and racially obsessed politics she's been peddling in advance of this release, readers may consider it one of their least favorite things. And they may even find some of her political commentary unbecoming.
The Obamas still want to be the big power brokers in the Democratic Party, and Michelle is a global superstar, so she helps frame the issues for a Democratic Party, still straddling the old and the new. Michelle Obama has long said she has no interest in running for office, although she held a few campaign-style rallies before the midterms urging people to register to vote. The rallies were part of her work as co-chairman of the nonpartisan, nonprofit organisation When We All Vote.
In her memoir 'Becoming' she writes candidly about everything from being subjected to racist comments to early struggles in her marriage to Barack Obama as he began his political career and was often away.
*International political commentator for European Business Review and editor-in-chief of Kriek Media