Merkel: Nationalism and egoism out of Europe
German Chancellor Angela Merkel discussed Europe's future with the members of European Parliament and the president of European commission Jean-Claude Juncker at the plenary session of European Parliament on Tuesday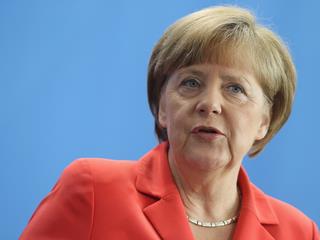 In order to «make its voice heard in a globalized world, Europe needs to keep its destiny in its own hands, since the ages that we could implicitly depend ourselves to others have passed away», Merkel declared. Creating real European soldiers, besides NATO, «we will prove that a war will never break out again among Europe's countries»
MORE ON Europe
German Chancellor Angela Merkel discussed Europe's future with the members of European Parliament and the president of European commission Jean-Claude Juncker at the plenary session of European Parliament on Tuesday.
«Tolerance is Europe's soul and the basic value of European ideal», as Merkel highlighted. This soul, though, has been tested by many and different kinds of challenges over the years, such as the public debt, terrorism, wars taking place close to our country, immigration, digitilization or the climate change.
All these are possible to be dealt with great success only if Europe acts as a union and «face other's interests and needs like they were ours. Solidarity is based on tolerance and this bond is Europe's power. It constitutes an important part of our common European DNA and signifies the overage of the national egoism».
Furthermore, solidarity means that whether the rules of law or the freedom of the press are undermined in a country, then the same condition will be occurred in the entire Europe as well. The Chancellor, also, highlighted that «if anyone attempts to offer solutions to problems by creating new debts, he ignores his commitments and disputes of Eurozone power and stability.
EU to voice united in the global scene
In order to «make its voice heard in a globalized world, Europe needs to keep its destiny in its own hands, since the ages that we could implicitly depend ourselves to others have passed away», Merkel declared.
Creating real European soldiers, besides NATO, «we will prove that a war will never break out again among Europe's countries».
She, also, pointed out that the economic success, research and innovation are vital for Europe boundary controls by Frontex, as well the formation of a common European asylum system. «Europe is considered to be the best opportunity that is offered to us and assures peace, property and a better future.
We should not allow this chance to be gone. We owe that to ourselves, previous and next generations as well. Nationalism and egoism should never flourish again in Europe. Tolerance and solidarity is our future. And this is the future anyone deserves to fight for», she ended up.