by Emma Charlton* 
American institutions continue to dominate lists of the top MBAs, with Chicago's Booth School of Business coming first in the latest round-up.
Eight of the top 10 in The Economist's 2019 ranking were located in the US, with France's HEC Paris Business School in third and Spain's IESE Business School at number 10, the only European entries. Big names Harvard, Kellogg and Wharton rounded out the top five.
While taking a Master of Business Administration qualification at one of these prestigious institutions has long been a pathway to profitable employment – more than 90% of attendees on the top 20 courses had a job within three months – what students and businesses want is changing, according to The Economist.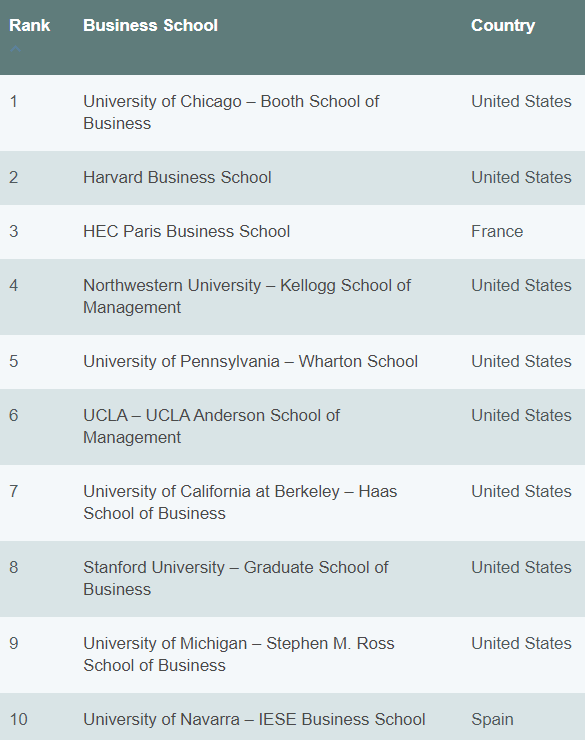 Students, it said, are now looking for a focus on more than just the bottom line, wanting classes to reflect corporate purpose and values as well as their impact on society. Meanwhile, employers are looking beyond simple management skills and want to see the curricula incorporate tech-savvy classes on coding, analytics and data.
The changing nature of the top business qualifications reflect a broader shift in the world of work as educational institutions, business leaders and politicians look to the future. The World Economic Forum's Future of Jobs Report explores how demand is increasing for different competencies, with the need for "human" skills such as critical thinking and creativity growing, as technology reshapes the workplace and eliminates some types of role.
Preparing workers for the Fourth Industrial Revolution is among policymakers' top concerns and one of the pillars of the Forum's Global Competitiveness Report looks at how prepared workforces are. Switzerland comes top, with Germany, Finland and Denmark also scoring highly.
What will also be interesting is how technology reshapes education and training, along with the MBA programmes. With online education evolving at a rapid pace, it may no longer be necessary to take a 21-month residential course, prompting the question: which MBA institution is most prepared for the future?
*Senior Writer, Formative Content
**first published in: www.weforum.org