by Paul Tugwell and Sotiris Nikas
Derided by European partners as a problem child during its decade-long financial crisis, Greece is setting an example for the world with a swift response to the coronavirus epidemic.
The country of about 11 million people reported 2,207 confirmed cases and 105 deaths as of Thursday, a fraction of the per-capita toll in Italy, Spain and France, which have almost 58,000 deaths combined. The situation in Greece is closer to Germany's, another nation considered to have handled its virus response responsibly and effectively.
Greek leaders credit preparedness and a disciplined population. Prime Minister Kyriakos Mitsotakis asked officials for a virus response plan in January. He praised widespread compliance with lockdown measures in an address to the nation this week, saying the "slightest letup can lead to a painful regression."
Early measures to protect Greece's health-care system included setting up an infectious disease committee, controls at airports and ports, efforts to inform the population and close contacts with European and world health bodies, Health Minister Vassilis Kikilias said in a written statement to Bloomberg.
"The gradual lifting of the measures will not be unconditional, but rather with conditions, so that we do not risk a second wave spreading," Kikilias said.
Mitsotakis, whose approval rating has risen during the crisis, ordered the closing of schools and universities on March 10, only 13 days after Greece reported its first coronavirus case.

After Greece reported its first death on March 12, the government closed businesses such as cinemas, gyms, clubs, bars and restaurants within four days. A lockdown, including a ban on non-essential movement, followed a week later. While avoiding the rate of confirmed cases seen in Europe's worst-hit countries, Greece also has fewer virus victims than several European Union countries with similar populations.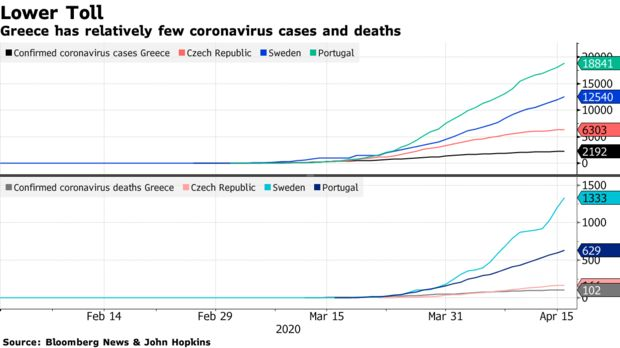 Mitsotakis ordered up a virus plan to be ready by the beginning of February, which was activated immediately after the first coronavirus case, Deputy Citizen Protection Minister Nikos Hardalias said by telephone. That brought the spread of the virus under control early on, he said.
A recent poll found that more than two-thirds of Greeks tune in to daily televised briefings by Hardalias, a former mayor of the Athens suburb of Virona, and Sotiris Tsiodras, a soft-spoken infectious diseases professor.
Hardalias implores citizens each time to observe restrictions and not to compromise the sacrifices they have made, reciting the phrase that has come to define the crisis in Greece: "Menoume spiti," or "We stay at home."
The next challenge will be to maintain that stance during the Orthodox Christian Easter holidays that start on Friday. For now, Greece's lockdown is in force until April 27.
The government is working on a plan for returning the nation to normalcy, a shift that "will be gradual and long and won't be automatic," Stelios Petsas, a government spokesman, told reporters on Thursday. "Greeks realize that this Easter will be different."
Snowball Effect
Hardalias said officials stuck to the procedures and protocols from the first case.
"We also have a very strong tracing system and a platform for monitoring all those who are in quarantine," he said. At one point, about 29,000 people were being monitored.
What helped was to treat each coronavirus case as a small circle of the epidemic and trying to isolate it, so that those circles don't "connect or intersect," Hardalias said.
The alternative, he said, would have been "a snowball effect leading to an out-of-control situation."
*first published in: www.bloomberg.com