by Bhakti Vithalani and Arun Nagarajan*
The digital skills gap is a meaningful threat to credible news reporting. Reuters Institute for the Study of Journalism at Oxford cites that 75% of the global population seeks news and information on social media networks like Twitter, YouTube and Meta (who own Facebook, Instagram and WhatsApp). Social media networks are becoming the primary news source, and this trend is accelerating.
But journalists, especially in emerging digital countries, haven't been equipped to remain engaged and stay safe in the rapidly digitizing media world. They face being left behind in this digital shift. Increasing digital adoption and ongoing access to skills is the most effective way to ensure that journalists can continue making an impact.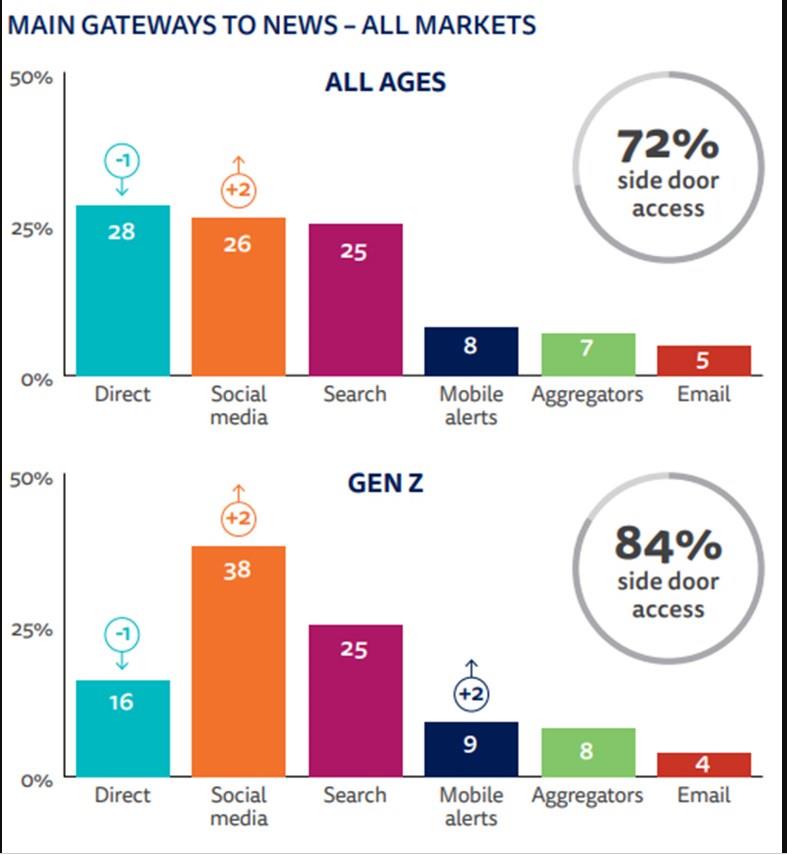 Access points for online news, 2020. Source: Reuters Insititute and Oxford University Digital News Report 2020.
The traditional methods of training journalists aren't able to keep pace with the rapidly evolving digital landscape. The potential for journalists to report from anywhere and immediately connect with a global audience is both the biggest opportunity and threat to credible reporting. The gap between the skills journalists traditionally learn and the digital environment they work in is creating serious privacy and safety challenges for journalists. Beyond journalism, this same digital skills gap risks leaving people behind, especially older generations, blue collar workers and anyone living in areas where digital adoption is lagging.
With the phone as the newsroom, and social media networks as the distribution channel, an understanding of digital publishing is a core skill journalists need. Social networks are constantly innovating new features to reach a wider audience and create a better experience for users. Journalists need to understand and be equipped to utilize these features at pace with how quickly platforms innovate and evolve. When journalists have access to the right skills, they can operate more safely and report more effectively.
Empowering journalists for digital adoption
BigSpring, a mobile-first work readiness platform, partnered with the Meta Journalism Project, The Centre For Investigative Reporting Sri Lanka (CIR) and Center for Communication Action Bangladesh (C-CAB) to upskill over 4,000 journalists across Bangladesh on digital publishing skills in five months. Many of these journalists were from rural areas, weren't easily reachable, and didn't have access to learn skills and best practices. Journalists learned how to protect their accounts and privacy to stay safe, along with best practices on using video to report their stories. The result of this project is an uptick in digital adoption and an increase in the number of work-ready journalists able to cover important stories in all parts of Bangladesh.
Over the course of this project, we learned that agility and accessibility are the two contributing factors that equip people to be productive in a rapidly accelerating world.
1. Digital skills need to be taught quickly and updated frequently
The speed at which social networks and digital platforms evolve means that skilling has to move at the same pace. The traditional model of classroom training and university education takes too long. By the time a course is developed, rolled out and completed by a person much of the information they learn will be out of date. Creating models of skilling where specific micro-skills can be built, taught and shared in days, versus weeks or months, offers an advantage. This advantage becomes greater when the platforms themselves are willing to get involved and provide the most up-to-date and accurate best practices and strategies for using new features.
2. Digital skills need to be widely accessible
Mobile phones are by far the most connected devices on the planet, so creating mobile-first training is the best way to reach the largest number of people. Localization is important, because journalists covering local news in local languages are critical to growing local reporting in newly connected places. Ensuring that the amount of digital data required to learn these skills remains low removes another barrier to access, especially in places with poor connectivity or where the cost of data is expensive.
"Our partnership with BigSpring has been crucial in helping journalists and newsrooms build the skills and training needed to navigate digital transformation, and develop more engaged communities across the news ecosystem," said Anjali Kapoor, Director of News Partnerships, Meta Asia Pacific. "The success of Facebook Fundamentals is due to our strong partnership with BigSpring, Center for Investigative Reporting (CIR) and Center for Communication Action Bangladesh (C-CAB) to improve the skills of thousands of journalists by innovatively delivering a mobile-first training programme that reaches journalists in both regional and local areas."
Bridging the digital skills gap at scale
Digitization is changing everything rapidly, and every new opportunity it creates also creates a risk of people getting left behind. When digitization is coupled with the requisite skills it unlocks the opportunity for all people to become engaged and productive in work and society.
Getting people work ready in a rapidly accelerating world is the most critical economic and societal problem of the next decade. Bridging the digital skills gap by increasing digital adoption, is at the centre of the solution, ensuring everyone can progress to the future. And now we know we can bridge this gap at scale for everyone.
*Founder and Chief Executive Officer, BigSpring and Co-founder and CTO, BigSpring
**first published in: www.weforum.org