by Roberto Bocca*
1. Europe faces costly race to refill gas storage
As Europe emerges from a mild winter with gas storage close to record levels, governments must prepare for another costly exercise to replenish reserves on the international market, experts say. European gas prices leapt to record highs when Russia cut supplies of relatively cheap pipeline gas last year.
Although European prices have eased to around €50 ($53) per megawatt hour from last August's peak of more than €340, they remain above historic averages. This means that governments face another huge bill to refill storage sites before peak winter demand later this year.
To protect against shortages they will have to repeat the exercise annually until the continent has developed a more permanent alternative to the Russian pipeline gas on which it depended for decades. Last year's overall European imports of Russian pipeline gas were 60% below the average of the previous five years, European Commission data showed. This year, Russian deliveries to the EU are expected to fall to less than half of that.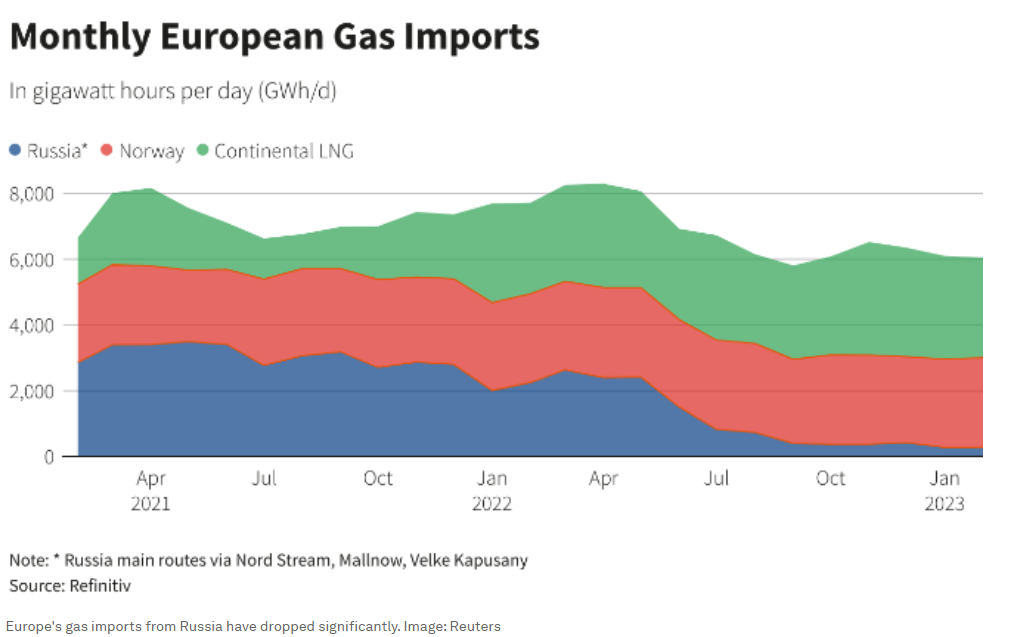 Industry experts say the amount already in storage – which is currently around 64% full – will help ease Europe's gas crisis, as will an increase in French nuclear generation. However, Europe's storage caverns can only meet around a quarter of demand, even when full. Analysts say the long-term solution to the gas shortfall needs to be more renewable energy, and that the energy crisis will accelerate progress.
2. Indonesia launches carbon trading mechanism for coal power plants
Indonesia has launched the first phase of mandatory carbon trading for coal power plants. The move is part of efforts by Southeast Asia's biggest economy to boost renewable energy and achieve net zero emissions by 2060. Coal makes up more than half of Indonesia's power generation.
The first stage of the carbon trading mechanism will cover 99 power plants. Under the mechanism, plants that emit more carbon than their quota can buy carbon credits from those with below-quota emissions or from renewable power plants.
"Carbon pricing is one of the policies that could increase energy efficiency, reduce dependence on carbon energy, imported energy, and can be a source of income for the company and government," Energy Minister Arifin Tasrif said.
Indonesia last year set ambitious targets for reducing carbon emission by 31.89% on its own, or 43.2% with international support, by 2030.
3. News in brief: more energy stories from around the world
The US plans to prepare coastal states for floating offshore wind generation projects, reports Scientific American. This will include a feasibility study on linking the West coast's grid to floating wind power facilities.
European manufacturers are considering investing hundreds of millions of dollars in Viet Nam to build wind turbine plants, as the country gears up to exploit its large untapped potential in offshore wind. Viet Nam is seen as a potential major player in the sector because of its strong winds and shallow coastal waters near densely populated areas.
Sri Lanka's Board of Investment has approved a $442 million project for two wind power plants to be built by an Indian energy company. The country has been facing rolling power cuts for over a year, which has pushed the government to fast-track renewable energy projects.
Nigeria has selected a local energy company to operate and manage a $1.3 billion hydro-electric power station. The Chinese-funded project is expected to boost erratic power supplies in Africa's most populous nation.
More than 20 companies in the carbon removal industry have launched a coalition that will lobby the US government for new policies to help commercialize the technology. Investors have been pouring millions into the emerging field following the passing of the Federal Infrastructure Bill and the Inflation Reduction Act.
A US state senator plans to reintroduce legislation to help secure Pennsylvania's prospects of becoming a hub for carbon capture, utilization and sequestration (CCUS), according to Gasworld. Gene Yaw says the state has the potential to develop a vast CCUS network.
Sales of heat pumps rose by well over a third in Europe to hit a record high last year, according to industry analysis. Government support and soaring fossil fuel prices have boosted uptake.
British chemicals giant Ineos says it has secured funding to build Europe's greenest ethane cracker power plant, reports Hydrogen Central. The £3.1 billion ($3.7 billion) project in Belgium will be powered by low-carbon hydrogen.
Cuba has been experiencing a series of blackouts, leaving large areas of the centre and east of the island without power. Cuban officials have blamed fuel shortages, deferred maintenance and difficulties processing heavy sour Cuban crude, which it burns at its oil-fired plants.
4. More on energy from Agenda
World leaders spent a record $1 trillion of subsidies into fossil fuels in 2022, the International Energy Agency says. This is despite them committing to phase out 'inefficient fossil fuel subsidies' as part of the 2021 Glasgow Climate Pact.
Restricting coal use is essential to prevent global temperature rise exceeding 1.5°C. Researchers at University College London explain the findings of a new paper on the key challenges facing current pathways to avoiding catastrophic climate change.
The slow progress in the energy transition and dependence on fossil fuel imports have amplified the severity of the cost-of-living crisis. This is making households more vulnerable to energy poverty, but the burden is not equal, researchers warn.
*Head of Shaping the Future of Energy and Materials; Member of the Executive Committee, World Economic Forum
**first published in: Weforum.org